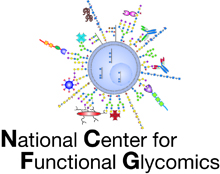 The National Institutes of Health (NIH) has announced it will fund a new National Center for Functional Glycomics (NCFG) to be housed at Emory University School of Medicine. The center will be directed by Richard D. Cummings, PhD, William Patterson Timmie Professor and chair of the Department of Biochemistry.  
The total five-year award is more than $5.5 million, from the National Institute of General Medical Sciences (NIGMS), with potential renewal every five years.
The new funding complements and extends existing funding of the Legacy Resources of the Consortium for Functional Glycomics (CFG) from the NIH/NIGMS. Cummings also leads the CFG, which is the world's largest group of glycoscientists and biomedical researchers in the glycomics area.  
Key Emory personnel in the new NCFG include Dr. Cummings, principal investigator; David F. Smith, PhD, technical director and professor of biochemistry; Tongzhong Ju, MD, PhD, project leader and associate professor of biochemistry; Xuezheng Song, PhD, project leader and assistant professor of biochemistry; and Jamie Heimburg-Molinaro, PhD, project coordinator.
The specific focus of the NCFG will be on technology development in the glycosciences with an emphasis on exploring the molecular mechanisms of glycan recognition by proteins important in human biology and disease. The glycans on glycoproteins and glycolipids and in body fluids, such as milk, tears, and excretions, represent the glycome, which is analogous to the genome and proteome. The study of the glycome is termed glycomics, and understanding its function in terms of molecular recognition is a major focus of the NCFG.
Glycans are important in many physiological processes, and alterations in glycosylation are associated with vast numbers of diseases and disorders, including cancer, inflammation, cystic fibrosis and congenital disorders of glycosylation. In addition, glycans on human cells are bound by a wide variety of viruses and bacteria that are initial steps in invasion and infection.
The grant will fund research into the recognition of glycans and complex carbohydrates using the technology of "glycan microarrays," which are platforms containing microscopic outlays (nanograms) of diverse types of glycans that may be recognized by antibodies, proteins, viruses and bacteria. The specific glycans that are recognized lead to hypotheses to be developed about the role(s) of glycans in biological processes under study. Such information can be combined with other information based on genomic, transcriptomic, and proteomic and/or glycoproteomic analyses to define the molecular nature of the biological interactions.
"Emory's Glycomics Center is pleased to lead this effort in advancing the fields of glycobiology and glycomics, which are increasingly recognized as being of critical importance to advances in biomedical research and treatment of disease," says Cummings. "Our future plans are to build on the technological breakthroughs in glycomics over the past decade and develop new tools for exploring the rich biological roles of glycans in disease and health."
Since its inception in 2007 members of the Emory Glycomics Center have been responsible for over $18 million in grant funding to the Emory School of Medicine.  The researchers within the EGC have published over 130 peer-reviewed publications, including primary research articles, reviews and book chapters, in such prominent journals as Science, Nature, Nature Methods, Nature Medicine, Proceedings of the National Academy of Sciences, Journal of Biological Chemistry, Molecular and Cellular Proteomics, PLoS One, as well as a seminal textbook on Glycobiology, Essentials of Glycobiology.
---