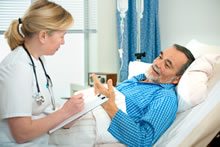 Emory's Nell Hodgson Woodruff School of Nursing, in collaboration with Emory Healthcare, received a three-year, $1.5 million award to further refine and spread the Accountable Care Unit  (ACU) model across Emory Healthcare. The ACU model strengthens the collaborative practice environment across acute care inpatient units.
"We are extremely optimistic about the potential of this collaboration," says Linda McCauley, RN, PhD, dean of Emory University's Nell Hodgson Woodruff School of Nursing. "This partnership expands the patient impact of ACUs within Emory Healthcare, and provides an enriched learning environment for our students."
The cooperative award was made by the Health Resources and Services Administration (HRSA) of the U.S. Department of Health and Human Services, through the Nurse Recruitment, Practice, Quality, and Retention-Interdisciplinary Collaborative Practice mechanism. The key objective of the award is to increase the number of staff nurses trained to lead interdisciplinary, unit-based teams.
Accountable Care Units (ACU) are jointly-managed and geographically-distinct patient care areas that are responsible for the clinical, service and cost outcomes they produce. ACUs have four essential components:
unit-based teams
patient-centered workflow
unit level performance data
partnered unit management and accountability.
The Emory expansion is planned in two phases, bringing in three new ACUs in the first year and four more in years two and three. 
"We expect that the results of our robust formative and summative evaluation will demonstrate the impact of the model on important clinical and system outcomes," says Susan Shapiro, PhD, RN, project lead, who holds joint appointments in both Emory's Nell Hodgson Woodruff School of Nursing and Emory Healthcare. "This will provide direction for further scale up models following the project's completion."
The goal of the project is to increase the number of units that are adopting the ACU model across Emory Healthcare by adding seven new ACUs in the three-year course of the agreement.
The project leadership team consists of faculty from the School of Nursing and the School of Medicine, including the physician and nurse who originally developed the model. The ACUs will also serve as collaborative learning environments for baccalaureate and advanced practice students from the Nell Hodgson Woodruff School of Nursing, as well as medical and physician assistant students from the School of Medicine.
"One of the most exciting aspects of this project is that it merges the best of what we have to offer here at Emory," says McCauley. "The student and nursing leaders, clinical staff and patient care providers from the School of Nursing, School of Medicine and Emory Healthcare will yield only the best health outcomes for our patients. This is truly an exciting and equally rewarding experience."
About Emory Healthcare
Emory Healthcare is the largest and most comprehensive healthcare system in Georgia. There are currently six hospitals in the growing EHC system, including Emory University Hospital, Emory University Hospital Midtown (formerly known as Crawford Long Hospital), and Emory Johns Creek Hospital.
About the Nell Hodgson Woodruff School of Nursing at Emory University
The Nell Hodgson Woodruff School of Nursing produces nursing leaders who are transforming health care through science, education, practice, and policy worldwide. It has 250 baccalaureate, 200 masters, and 20 doctoral students as well as two postdoctoral fellows. Students who complete their undergraduate degree go on to become national and international leaders in patient care, public health, government, and education. In 2011 the school received over $10,000,000 in research funding. Overall, the School is ranked 21st nationally by U.S. News and World Report.
---