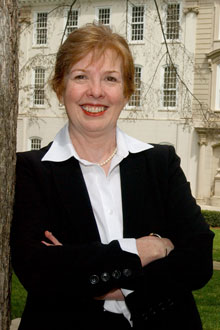 The Rev. Susan Henry-Crowe, Emory University's dean of the chapel and religious life, has been appointed to an international leadership role in the United Methodist Church (UMC). Henry-Crowe will serve as general secretary of the General Board of Church and Society, the denomination's main arm for social justice and advocacy, education and international outreach, starting February 2014.  
The General Board of Church and Society (GBCS) is one of four international general program boards of the United Methodist Church. As the chief executive officer of the board, Henry-Crowe will lead the GBCS's visionary role as the church's social justice advocate and will oversee all programming, staff and administration of the board's office, headquartered in Washington, D.C.  
"Emory is and will always be my spiritual and intellectual home," says Henry-Crowe of her time at the university. She adds that she has been guided in her work by Emory's first principle of founding, "to be a profoundly religious institution without being narrowly sectarian."  
"Susan Henry-Crowe has left an indelible stamp on religious life at Emory. Indeed, she has built a national model for how to care for the spiritual needs and longings of the students, faculty and staff on a university campus," says President James Wagner. "Perhaps her most lasting contribution will be the ways she has helped reinforce Emory's vibrant Methodist heritage while leading an interfaith ministry that nurtures both authentic expression of one's own faith and respect for the many religious traditions in our diverse community." 
Since joining Emory in 1991, a key focus of Henry-Crowe's work at the university has been to foster inter-religious dialogue in the ever-changing world of religious pluralism, including coordinating the work of more than two dozen student religious groups of all the world's major faiths.  
In 2000, the United Methodist Foundation for Christian Higher Education named her Chaplain of the Year. She used the $5,000 award to help fund the university's Journeys program, which takes Emory officials, students and faculty to troubled world regions to learn more about the roots of conflict and the possibilities for peace and reconciliation. Groups have traveled to South Africa, Cuba, Bosnia, the Middle East, the Mississippi Delta, Native American communities in Montana, the Texas/Mexico border, Northern Ireland and India.  
Additionally, she serves as adjunct faculty at Emory's Candler School of Theology, where in 1995 she received the school's Distinguished Alumni Award. In 2011, Henry-Crowe was recognized as one of the "175 Makers of History" during Emory's 175th anniversary celebration.
Henry-Crowe is an ordained United Methodist elder and continues to serve as a member of the South Carolina Annual Conference of the church. Elected in 1992 to her first eight-year term on the Judicial Council, the denomination's "supreme court," she was elected to a second term in 2004 and became the first woman president of the council in 2008.
When she was ordained in 1974, Henry-Crowe was only the second woman to serve as a full-time United Methodist pastor in South Carolina. She served as campus minister at Winthrop and Furman universities and later was director of the conference's Council on Ministries. 
---