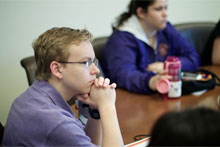 Two-dozen Emory students who vied for the chance to become Ethics and Servant Leadership Interns this summer are making sure their experience results in more than a bullet point on a resume.
Their summer jobs consist of working for some of Atlanta's best-known public policy, arts and charitable organizations, while completing a non-credit campus course on what it means to be a not just a leader—but a servant leader.
The distinction is important, says Edward Queen, director of the D. Abbott Turner Program in Ethics and Servant Leadership at Emory's Center for Ethics.
"I find ways to improve myself through this class that many people don't get a chance to do in their entire work lives," says Scott Parent, a rising Emory junior economics major from Chicago who's interning with the Atlanta YWCA.
The internship component is just one feature of a comprehensive Ethics and Servant Leadership Program at Emory, now well into its second decade, that boasts a year-round curriculum and alumni who have gone on to become doctors, lawyers at the International Criminal Tribunal for the former Yugoslavia, nonprofit directors, university chaplains, and more.
The program's top goal, says Queen, "is to take highly qualified and committed Emory students who are going to be successful no matter what they do, and infect them with the virus of community service and community obligation." The ultimate aim? "Creating the next generation of community leaders," he says.
"The normal definition of a leader is a person at the top," says Khatdija Meghjani, a junior sociology and international studies major working at Partnership Against Domestic Violence. "It's not always about being at the top, but about engaging people that you work with to be their best."
Building a vocational life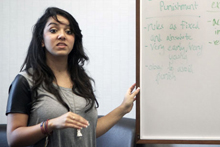 Khatdija Meghjani, a junior sociology and international studies major, is working at Partnership Against Domestic Violence.
As students gather each week on Fridays at the university's Center for Ethics, the talk is abundant, the atmosphere relaxed. After a week of performing in a hectic work environment, students look forward to discussions about their jobs in small groups organized roughly by their particular industry.
Students share successes, voice concerns, or talk about challenges they're facing, says Queen. "They have a chance to work through those challenges with facilitators and peers, and to deepen their thinking about their work and the work of their organization."
Falak Mawani, a rising junior interning at nearby Clarkston Community Center, says her small group discusses issues related to managing a nonprofit, including planning and staffing, background and skills needed for the job, and small goals that each of them can work toward in the coming week. "We want to see if we can leave our mark," she says of the work.
The sessions give students a chance to build their vocational lives, say Queen, "whether to gain experience in an area in which they are already moving, to give them a chance to try out a field of work, or to give them experience in a real work environment, but in a way designed to help them extract as much learning from it as possible."
Interns moving forward
Havan Clark, a 2013 Emory College graduate, sees this summer's internship as a pivotal time for her. "I just needed—a breath. I needed to gain some experience in the world," says Clark, a Spanish and religious studies major from West Palm Beach, Fla.
Clark's work with the International Rescue Committee's Atlanta chapter has her translating materials into Spanish, teaching basic computer skills to refugee women and working with the IRC's program to help these women become licensed child care providers in the State of Georgia. "I knew I would enjoy working with diverse communities," says Clark. "This internship is helping me move forward with that."
For Lynnett Glass, a second-career student at Emory's Candler School of Theology, the internship is another step in leaving behind her career as a journalist and embracing her call to ministry. A single mother of a 16-year-old, Glass is working with the metro Atlanta YWCA on programs for teenage girls.
"When you give a child opportunity and exposure, it changes their lives," says Glass, clearly in her element. What are her plans post-seminary? "I'm still talking to Jesus about that," she says, adding that whatever the exact assignment, some form of ministry "is what I'm supposed to be doing."
Leadership 'in a certain kind of way'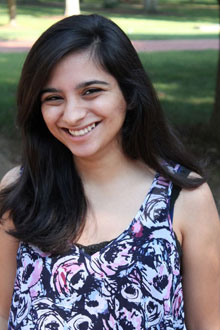 Falak Mawani is a rising junior interning at Clarkston Community Center.
Sirah Ndolo, a rising senior interning with Atlanta Harm Reduction Coalition, also feels she's in the right place, which means "meeting people wherever they are." That can be a challenge at the coalition's offices in the Vine City area, a place noted for its abandoned buildings and drug dealing.
"It's hard to get an image of the people you're serving until you go there and see the neighborhood and the people who work there," says Ndolo. The work can be overwhelming at times, especially when "you might not immediately see some type of progress."
Yet Ndolo says "the more I work there the more value I see in taking time to lead in a certain kind of way." After the internship, it's back to Emory this fall, but Ndolo, who is from Atlanta, intends to continue working at the coalition through the year.
"It's because I'm personally moved by the work we're doing," says Ndolo. "I don't like the idea of putting the internship on my resume and leaving." That level of concern, she says, is what ethics and servant leadership are all about.
Clearly, the virus of community service has been passed along.
---