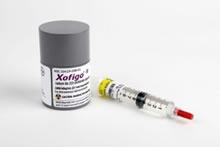 Saint Joseph's Hospital has treated the first patient in Georgia with a new FDA-approved radioactive therapeutic drug for advanced metastatic prostate cancer. The patient received a single injection of radium Ra 223 dichloride (brand name Xofigo), the first of six injections. Xofigo has been shown to reduce bone pain and improve quality of life.
Doug Sommer, 54, is doing well after his first treatment, and has experienced no side effects from the drug. A double bass player in the Atlanta Symphony Orchestra, Sommer said he was, "in the right place at the right time with the right doctors" when he was offered to be the first in the state to receive this new treatment option.
"Patients with a type of cancer called castration-resistant prostate cancer (CRPC) with metastatic bone disease, who have failed hormone suppression therapy, now have a new treatment option for their disease," says Peter Rossi, MD, medical director of radiation oncology at Saint Joseph's Hospital and assistant professor of radiation oncology at Emory University School of Medicine and Winship Cancer Institute. "Radium Ra 223 mimics the behavior of calcium and is attracted to bone. Because of this process, the radium, in a high energy state, kills cancer at the bone level so the bone can recover."
Bone is the most common site in the body to be affected by metastatic cancer, and bone metastases are particularly prevalent in patients with prostate cancer. Approximately 90 percent of patients with metastatic prostate cancer show evidence of bone metastases, which is the main cause of death in patients with prostate cancer.
Up until now, patients with this form of cancer have been treated with chemotherapy, with modest results.
"Radium Ra 223 dichloride has been shown to improve survival rates in patients by 30 percent, while treating symptomatic bone pain," says Henry Krebs, III, MD, an interventional radiologist at Saint Joseph's Hospital. "Instead of a prolonged treatment plan, such as chemotherapy or radiation, patients receive one injection per month for six consecutive months, with very few side effects."
Experts say Xofigo is the first and only alpha particle-emitting radioactive therapeutic agent approved by the FDA that has demonstrated improvement in overall survival rates. The drug's anti-tumor effect on bone metastases is an important addition to the treatment of this cancer.
"Together, Saint Joseph's and Emory doctors provide a wealth of expertise and knowledge, along with innovative treatment options and clinical services in prostate cancer," says Martin Sanda, MD, chair of the Department of Urology at Emory and director of the inter-institutional Prostate Cancer Center at Emory, Winship, and Saint Joseph's. "Collaboration between nationally renowned Emory faculty and exceptional community-based specialists is a key paradigm to benefit our prostate cancer patients and their families, making it possible to get cutting-edge treatment at a location easily accessible to the patient, as Dr. Krebs and Dr. Rossi implemented for Mr. Sommer."
Patients who receive radium RA 223 dichloride injections pose no harm to others around them, despite the agent being radioactive. Most insurance companies cover the treatment, which is tolerated well.
Emory Healthcare is committed to providing the highest quality health care to its patients, with the most up-to-date treatment options available. A multidisciplinary prostate cancer team -- involving medical oncology, radiation oncology, radiology and nuclear medicine -- at Saint Joseph's Hospital and Emory's Winship Cancer Institute came together to push this novel treatment for advanced prostate cancer forward.
In the coming months, Emory University Hospital, Emory University Hospital Midtown and Emory Johns Creek Hospital will also offer Xofigo injections to patients with castration-resistant prostate cancer and metastatic bone cancer.
---