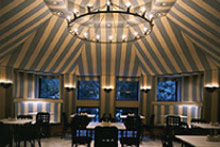 Caffe` Antico, the restaurant at the Michael C. Carlos Museum, is closing Aug. 1.  
For 20 years, the café nestled on the museum's top floor served lunch to museum visitors, faculty, staff and students from across campus.
Jim Warren, special events and amenities manager at the museum, says changes in the local dining environment prompted the closure. "The ongoing improvements to Emory Village bring a wonderful variety of new dining options close to campus and steps away from the museum," he notes. 
Closing the café will allow the museum to expand and specialize its food-based programming and offerings.  Information about upcoming programs will be available on the museum calendar at carlos.emory.edu.
"Additionally, the café space and adjacent catering kitchen will be available for campus and community groups to rent for meetings, luncheons and special events," Warren says.  The museum also has a reception hall and boardroom available for rent. 
For information on reserving the café, contact Jim Warren at 404-727-0516.   
July 31 will be Caffe` Antico's last day of service.
---