Many Emory faculty and staff are travelling, working and studying abroad and around the U.S. this summer. Some are enjoying cultural traditions; others are leading student groups or working on service projects; and some have landed front row seats to political and social controversy.    
Here's a sampling:
Rosemary Magee, vice president and secretary of the University and director of the Manuscript, Archives, and Rare Books Library, moderated an alumni event with U.S. Poet Laureate Natasha Trethewey at the Royal Automobile Club in London in June. Trethewey, who is Emory's Robert W. Woodruff Professor of English and Creative Writing, gave a reading at the event. "The topic was 'poetry and history'," says Magee. "Given that London has such a distinctive literary history, it was a perfect setting to ponder the meaning and significance of poetry over time and place." Holli Semetko, professor of political science; Sheila Cavanagh, professor of English; and Sissel McCarthy, journalism lecturer, also attended. Around 120 guests from all over Europe came for the poetry event. Magee also fit in visits to the Charles Dickens Museum, the Sherlock Holmes Museum, the Globe Theater, and the Churchill War Rooms.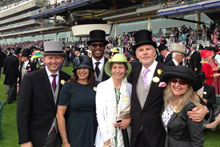 Emory faculty and staff go to the races, the Royal Ascot in England. From left to right: Josh Newton, Natasha Trethewey, Brett Gadsden, Rosemary Magee, Kevin Quarmby and Liza Quarmby. Photo courtesy of Kevin Quarmby.
Trethewey and Magee also attended, in the south of England, Royal Ascot, one of Europe's most famous horse race meetings as guests of Kevin Quarmby, assistant professor of English at Emory's Oxford College. Also there were Brett Gadsden, assistant professor of African American studies, and Josh Newton, vice president of for development of University programs. Quarmby describes it as "an amazing day's racing. We all won at least one race. There were screams and shouts all round. [It was like] reliving 'My Fair Lady' with style!," he adds, referencing the filming of that movie as well as two of the James Bond films at the Ascot Racecourse.
Steve Henderson, professor of geology at Oxford College, made his 18th trek to Big Bend National Park in West Texas, accompanied by 11 students and Mike McQuaide, Oxford professor of sociology; Ash Raymond, a geologist working for a GIS software company; and Chris Fleisher of the University of Georgia's Department of Geology. "Because there is an entire mountain range contained within the park, there are a number of ecosystems that the students study, ranging from the Chihuahuan Desert to the woodlands of the Chisos Mountains. Being there, as opposed to only being in a classroom, allows the students to gain hands-on knowledge that can't be gotten any other way," Henderson says.  
Henderson also recently returned from the Isle of Skye and Aviemore, Scotland, where he presented at the 10th International Conference on Military Geosciences. While there, Henderson fired a flintlock Brown Bess musket of the type used during the American Revolution and the Napoleonic Wars at the Cawdor Firing Range, a short distance from Cawdor Castle, seat of the earls of Cawdor and associated most famously with Shakespeare's "Macbeth." He also toured Culloden Battlefield with Tony Pollard, a battlefield archaeologist at the University of Glasgow. Culloden is where the Jacobite army, under Bonnie Prince Charlie, was defeated by the government army in 1745.
Peter Höyng, German studies chair; Hiram Maxim, incoming German studies chair; Viola Westbrook, senior lecturer emerita; Caroline Schaumann, associate professor; and Timothy Albrecht, professor of music, attended the 40th anniversary of the German Exchange Program in Vienna, Austria. "We had alumni from the U.S. and Austria join together for a dinner to celebrate this occasion," says Marifel Verlohr, assistant director of international programs for the Emory Alumni Association. Current exchange students and their host families also celebrated with the alumni during the opening dinner hosted by the mayor of Vienna. "As became evident during our reunion weekend, we have positively touched so many Emory students in so many ways with our program that it is difficult to point to just one aspect: the positive experiences range from academic, professional, to personal aspects," says Höyng. As part of this anniversary, the German studies program had held a conference on Study Abroad Programs in German-Speaking Europe in March.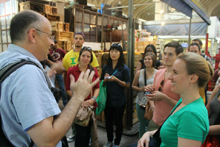 History professor Jeffrey Lesser and students pause for information during a walking tour of the Sao Paulo Municipal Market in Brazil. Photo by Christopher Dunn.
Jeffrey Lesser, Samuel Candler Dobbs Professor of History, is in Sao Paulo, Brazil leading a group of 25 students on a program for Emory, Tulane and Vanderbilt universities. Many are graduate students, Lesser says, and have Foreign Language and Area Studies grants from the Department of Education. Lesser has been observing and talking to activists in the protests in Sao Paulo. His op-ed, published in the New York Times, describes the crux of the protest issues: "Activists see transportation as an example of inequality: the lowest-paid workers pay the same as the wealthiest. Without public transportation, most Brazilians cannot make a living." He also notes the changing attitudes in Brazil in that Brazilians are less willing to accept more state support for the national soccer team than for the national citizenry.
Tom Rogers, associate professor of history, also recently spent a month in São Paulo, Brazil, where he is researching a book project about the history of sugarcane ethanol production in Brazil. "I'm interested in the dynamics of a hybrid energy and agricultural policy, regional inequality, rural-urban inequality, and authoritarian versus democratic approaches to energy challenges," he says. "São Paulo state has for 40 years accounted for a large percentage of Brazil's ethanol production, so my research took me there." Rogers encountered a different type of energy there: the street demonstrations with tens of thousands of participants wearing costumes, carrying flags and signs. "It was fascinating watching the massive crowds and hearing different people explain why they were participating. On Facebook, on blogs, and in newspapers, everyone tried to impose his or her own narrative on what was unfolding, but it's clear that there was — and is — no single story," he says, adding "I have remained glued to news outlets since my return, since these events are still unfolding."
Bruce Knauft, Samuel Candler Dobbs Professor of Anthropology, returned this summer to the deep rainforests of Papua New Guinea to revisit the small and remote group of Gebusi tribal people. "I have known and worked with the group as a cultural anthropologist since the 1980s. It was quite an experience," Knauft says.  
Ellie Schainker, assistant professor of history and Jewish studies, traveled to Munich, Germany, this summer to participate in a conference on Jews and Muslims in the Russian Empire and Soviet Union. While Jews and Muslims in this region are usually studied in isolation from one other, the scholars at this conference pursued a comparative approach to illuminate the ways in which religion and ethnicity differences impacted the policies and practices of the multi-ethnic and multi-religious Russian empire, and later the Soviet Union. The conference took place at the Historisches Kolleg, between the Bavarian State Library and the English Gardens.
Peter Roberts, professor of organization and management, and seven students from Goizueta Business School will be in Bolivia this August participating in a Global Feasibility Study with Latin American operations of the Kimberly-Clark Corp.  Five students from the Evening MBA program and two from the MBA program are working with Roberts on the project, which is focused on a recycling facility in Bolivia to better manage resources there. Goizueta alumnus Percy Muente brought the project to Roberts' Social Enterprise@Goizueta program. "The group works on the ground here in June and July on a pro-bono basis outside regular jobs or internships," says Ellen Williams, manager of program and partner development for Social Enterprise@Goizueta. The team prepares a final report with recommendations that is delivered to the client in October.
Editor's Note:
Emory faculty and staff: Do you have an interesting summer travel story to share? Send us a 'postcard' account of your experience and photos or video, if available, for consideration in Emory Report.
---