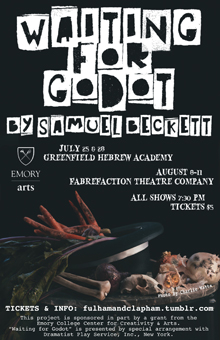 During the 2012-13 academic year, Theater Studies and Theater Emory launched an innovative series of workshops and performances designed to give artists a space to explore new ideas, and Emory students the opportunity to experience and participate in experimental new work. The Breaking Ground series is a laboratory for students, alumni, faculty and Atlanta artists to exchange and create new performances.  
Projects are often in very early stages of development, and the format is wide open: an excerpt from a play, five minutes of a performance piece, several brief components of an interdisciplinary project, or simply a conversation about a creative idea.  
The idea for the series  — which occurs in tandem with a one credit-hour undergraduate course, "Experiencing New Works" — was developed by Theater Studies faculty members Jan Akers, Michael Evenden, Tim McDonough and Lisa Paulsen.  
"One of the things that makes the class exciting is that students arrive for each session not really knowing what to expect," says Akers, Theater Emory artistic director. "They meet artists working in many different areas who approach creativity from a variety of directions."  
The workshops and presentations encourage students to articulate what they are seeing and hearing, and to examine the artistic process. What is the experiment? What are the artists trying to develop, and how are they going about it?  
A variety of artists brought an exciting atmosphere of originality and fearlessness to the inaugural season of the series. This year, in addition to participants from Emory and Atlanta, innovative artists from Minneapolis, Philadelphia and Accademia dell'Arte faculty from Trinity Repertory Company in Rhode Island, will move the workshops in fresh, new directions.  
Summer series
In addition to the meetings during the academic year, Breaking Ground included an intensive summer series in the Schwartz Center Theater Lab. During a four-week period this summer, students presented works in progress, along with four projects from Emory alumni.  
The creators of each project had a week in the "lab" to develop their ideas. At the end of the week, the artists opened up their process and invited the public to come view and discuss their work.  
One of these projects, an exploration of scenes from Samuel Beckett's "Waiting for Godot," by Seth Langer and Emory College student Jake Krakovsky, has grown into a full production, opening July 25. Drawing inspiration from vaudeville, Looney Tunes and the philosophy of Albert Camus, "Fulham and Clapham Present: Waiting for Godot" is a fresh, funny take on a provocative play that has intrigued audiences for more than 60 years and received numerous interpretations.
---