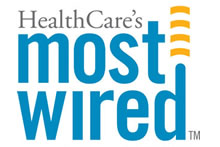 For the fourth year in a row, Emory Healthcare has made the list for the "Most Wired" health care organizations. The survey, conducted annually by Hospitals & Health Networks magazine, is designed to measure the level of IT progress in U.S. hospitals and health systems, and is a useful tool for hospital and health system leadership to map their IT strategic plans.
The Most Wired Survey is an industry-standard benchmark study, looking at four areas of expertise: technology related to infrastructure, clinical quality and safety (inpatient and outpatient), clinical integration (ambulatory/physician/community), and business and administrative management.
"Emory Healthcare's technology success is a direct result of the outstanding partnership we have among our staff, our physicians and our Information Services department," says Dee Cantrell, RN, BSN, MS, Chief Information Officer (CIO) of Emory Healthcare. "A team approach such as ours has helped us create a strong clinical information system aimed at improving patient quality and care."
Cantrell is responsible for the IT infrastructure that supports the day-to-day operations of over 15,000 employees and more than 1,500 physicians within the five Emory Healthcare hospitals (Emory University Hospital, Emory University Hospital Midtown, Saint Joseph's Hospital, Emory Johns Creek Hospital, Emory University Orthopaedics & Spine Hospital), The Emory Clinic, Emory Specialty Associates' physician practices and Wesley Woods Geriatric Hospital. At these locations, her Information Services team supports all enterprise-wide and specific department systems and applications.
Experts say that over the years, hospitals and health care systems nationwide have made great strides to develop and improve clinical information systems. With that, health systems must learn to adopt technologies to improve patient documentation, advance clinical decision support and evidence-based protocols, reduce the likelihood of medication errors, and rapidly restore access to data in the case of a disaster or outage.
"At Emory Healthcare, we have continued focused efforts in clinical integration, analytics, connecting and coordinating care with the use of innovative and enabling technologies," says Cantrell. "Everything we do is about providing tools which support clinical care excellence."
Health Forum, an American Hospital Association information company, distributes, collects and analyzes the Most Wired data. The company also develops benchmarks that are becoming the industry standard for measuring IT adoption for operational, financial and clinical performance in health care delivery systems.
---