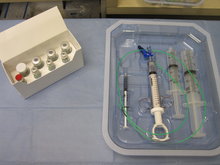 Emory University Hospital Midtown (EUHM) is the first hospital in the state of Georgia to test a new, minimally invasive treatment for chronic obstructive pulmonary disease (COPD). The AeriSeal System uses a glue-like substance specially designed to collapse and seal shut areas in the lungs that are not functioning because of damage.
COPD refers to a group of diseases that cause airflow blockage and breathing-related problems. It includes emphysema, chronic bronchitis, and in some cases, asthma. Cigarette smoking is the leading cause of COPD. Long-term exposure to other lung irritants—such as air pollution, chemical fumes, or dust—also may contribute to COPD.
The purpose of this study is to compare, in a randomized clinical trial, the effectiveness of the AeriSeal System for reducing airflow to non-functional lung tissue in patients with emphysema. Emphysema destroys lung tissue, reducing the transfer of oxygen to the body. This non-functional lung tissue takes up space in the chest, which makes it harder for healthy lung tissue to work.
Participants in this Phase III study will be enrolled in a 3:2 fashion, meaning for every three people who will receive the new study treatment, two will receive standard of care treatment, which includes inhaled and oral anti-inflammatory medications (corticosteroids) to control symptoms of shortness of breath or wheezing. These therapies target the symptoms, but do not address the diseased lung tissue itself. In very ill patients, surgery called Lung Volume Reduction Surgery (LVRS) is considered to remove diseased portions of the lungs.
58-year-old Robin Massey was diagnosed in 2011 with COPD after developing acute bronchitis following back surgery. When inhalers and physical therapy weren't successful, she was offered the opportunity to enroll in the trial at Emory University Hospital Midtown. Massey was randomized to receive the new treatment.
"By collapsing these damaged areas, the treatment creates more space for healthier areas of lung to function," says David Berkowitz, MD, principal investigator of the clinical trial. Berkowitz is director of Interventional Pulmonology and assistant professor of medicine, in the Division of Pulmonary, Allergy and Critical Care Medicine, at Emory School of Medicine.
"During the procedure, a small flexible tube called a bronchoscope, which allows us to reach and see inside the airways of the lungs, is passed through the patient's mouth," he says. "A catheter is then passed through the bronchoscope into the patient's lungs and used to deliver the glue to seal off the damaged areas of lung."
Massey, who smoked for almost 30 years, but quit eight years ago, says she is thrilled to participate in the trial. "Because of my COPD, I cannot walk long distances without the use of oxygen. If this study can identify a better treatment for those with COPD, I want to do my part to help," Massey explains.
Approximately two dozens centers across the U.S. are participating in this clinical trial, which tests the safety and efficacy of the treatment. EUHM hopes to enroll 10 participants over the next year. Patients will be followed for five years after treatment. Participants who were randomized to the standard of care group will have the option of receiving the study treatment for their emphysema after one year.
"Chronic obstructive pulmonary disease affects 65 million people with more than three million deaths per year," says Berkowitz. "It is projected to be the third leading cause of death worldwide by 2020. Our hope is to find better means to manage this condition to improve the quality of life in our patients."
---