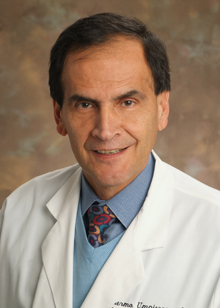 Guillermo Umpierrez, MD, professor of medicine in the division of endocrinology and metabolism at Emory University School of Medicine, and chief of diabetes and endocrinology at Grady Memorial Hospital is receiving the American Diabetes Association's (ADA) top honor.   
Umpierrez is the recipient of the 2013 Outstanding Physician Clinician in Diabetes Award, the highest recognition given to a clinical scientist working in the area of diabetes and metabolism. The ADA is the nation's leading voluntary health organization in the fight against diabetes.
"It is an incredible honor to receive this award," says Umpierrez. "I accept this on behalf of the dedicated faculty and staff who work with me at the diabetes center at Grady Memorial Hospital to improve the lives of patients with diabetes.  This award will serve as a great motivation for us to continue our clinical research program so we can continue to provide quality diabetes care to underserved patients at greatest risk for diabetes complications."
Established to stimulate, acknowledge and reward exceptional physician clinicians in the field of diabetes, the award is presented to an individual who has made outstanding efforts in diabetes care and is recognized as a highly regarded clinician and educator with more than 10 years of distinguished service. Umpierrez will receive the award and $3,000 honorarium at the 73rd Scientific Sessions of the American Diabetes Association in Chicago June 24.
A true champion for improving diabetes care in underserved populations, Dr. Umpierrez heads the Emory Latino Diabetes Education Program (ELDEP), the first nationally accredited all Spanish Diabetes education program dedicated to providing diabetes education and lifestyle intervention to Latinos in Georgia.
Under his leadership, the ELDEP has received funding of approximately $500,000 from the Healthcare Georgia Foundation and the pharmaceutical industry to develop a culturally sensitive, community-based diabetes education program targeting Latinos in metro Atlanta and throughout the state of Georgia. 
Dr. Umpierrez received his medical degree from University of Guayaquil, in Ecuador, and completed his internal medicine residency and endocrinology fellowship at Emory University School of Medicine.
---