You might say that fragments and incongruities are always on Joyce Flueckiger's radar.
Widely known as a champion of ethnography (the study of culture) as a crucial—even necessary—method for the study of religion, Flueckiger, a scholar of Hinduism, says researchers are often under tremendous pressure to come up with some "grand theory," but grand theories may cover over and silence the fragments and incongruities that constitute lived experience on the ground.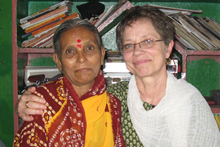 Emory religion professor Joyce Flueckiger (right) and friend Munnapa in Hyderabad, India
She writes in response to, and against, this pressure in her essay in Practical Matters, identifying "fragments and silences" that inevitably arise when attending closely and faithfully to the lived experience of religious adherents, and often close off the possibility of crafting neat, all-encompassing narratives.
For instance, in her participant observation of a woman in India (identified as MR) who describes herself as "crazy for the goddess [Gangamma]," Flueckiger attends to the "unsettling experiences" that her observation of and conversations with this woman produced in her. She writes:
I noticed MR's frozen smile and manic-like speech (often directed to no one in particular) across a small, congested courtyard where a crowd was gathered to see the south Indian goddess Gangamma in her festival human-guise when she returned from her hours-long perambulations through the heated streets of Tirupati.
Flueckiger reflects on the fact that her description of this woman's consuming devotion for the goddess leads to one kind of narrative, albeit fragmented and disjointed. Further still, an ethical concern arises.
As Flueckiger explains, "there is another kind of ethnographic fragment: when what we know, if we publish it, may indirectly negatively impact those with whom we work." Such sensitivity, then, becomes a necessary aspect of the religious ethnographers descriptions.
Attention to the intricacies of the lived experience of religion has long been a feature of Flueckiger's scholarship and teaching. Her book, "In Amma's Healing Room: Gender and Vernacular Islam in South India," follows the life and healing practices and narratives of Amma, a female Muslim spiritual healer in Hyderabad, South India.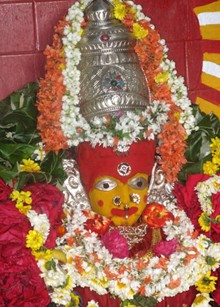 Goddess Gangamma, Tirupati, India.
Her next book is on indigenous theories of materiality, revealing how material substances (e.g., gold) function as agents at work in the lived realities of contemporary religious devotees. Her popular courses, "Women, Religion, and Ethnography," "Dance and Embodied Knowledge in the Indian Context" and "Performance and Ethnography," emphasize the importance of ethnography and performance in the study of religion to her students in Emory College and Graduate Division of Religion.
In many ways, Flueckiger's contribution to the discussion on Ethnography and Religion provides a macro analysis of the kind of work for which she is known: one of sensitivity and sympathy to theology as it is experienced by her research subjects.
She asks, "What does the world feel like when those participating in that world acknowledge and experience non-human agency (i.e. divinity)?" Her own response to this question is evident in her scholarly reflection on the work of ethnographic writing on religion:
[I]n my own work, I have chosen to try to understand and imagine the worlds of my interlocutors in which the deity—known by both his/her worshippers and the ethnographer herself only through fragments—is active. This approach does not preclude analysis and theory, but may be subtly performed through ethnographic writing itself: in part, by giving authority to the words of those with whom we work (including in the ways in which their words are laid out on the printed page in relationship to our own) and through narrative ethnography that leaves space for fragments and ambiguity.
Flueckiger writes in a narrative style that leaves room for fragments, an approach that serves as an important model for others who write in religion and beyond.
This post is the second of three highlighting a pair of roundtable conversations on ethnography, theology and religion hosted by Practical Matters, an Emory-based transdisciplinary journal on religious practices and practical theology.
---