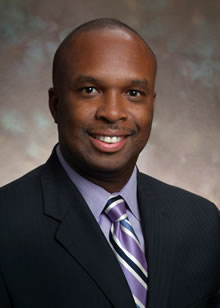 Leon L. Haley Jr., MD, MHSA associate professor of emergency medicine at Emory University School of Medicine, has been appointed the new Emory School of Medicine Executive Associate Dean of Clinical Services for Grady and Chief Medical Officer of the Emory Medical Care Foundation.
Haley will begin his new role on July 8, serving as the primary liaison between the Emory School of Medicine and the Grady Health System. In his new role, Haley will be responsible for executive oversight and the strategic vision and direction for Emory's clinical, research and teaching practices at Grady. 
"For the past 16 years, Dr. Haley has served the patients, families, physicians, staff and communities that rely upon the Grady Health System for clinical care, teaching, discovery and social support," says Christian P. Larsen, MD, PhD, dean of the Emory School of Medicine and vice president for Health Center Integration. "He has been a role model for scores of junior faculty, residents and students, and we have all benefited from his graceful and principled leadership in the Emergency Care Center. Fortunately, he will remain an active faculty member in the Department of Emergency Medicine and maintain a clinical practice at Grady." 
Haley joined the Emory University School of Medicine faculty in 1997. A native of Pittsburgh, Pa., he received his undergraduate degree from Brown University, his medical degree from the University of Pittsburgh and his master's degree in health services administration from the University of Michigan. Haley completed his residency, including a year as chief resident in emergency medicine, at the Henry Ford Health System in Detroit, Mich. Haley is Board-Certified in Emergency Medicine and a Fellow of the American College of Emergency Physicians and currently serves as an Oral Board Examiner for the American Board of Emergency Medicine
"I am looking forward to these new and exciting responsibilities," says Haley.  "We have a tremendous opportunity to build upon the exceptional and innovative care that we provide here at Grady. We make a difference in the lives of nearly a million people every year, people from all walks of life. We are a vital regional resource, and as a leading innovator in neurosciences, emergency medicine, infectious diseases and trauma and burn care, we have become a national resource as well."
Haley's honors and awards include a 2012 Fulton-Dekalb Hospital Authority Healthcare Hero, Atlanta Business Chronicle Healthcare Heroes award in 2005,and  "Up and Comers Award" in 2004, Who's Who in Black Atlanta 2007, International Who's Who of Professionals, the Alpha Kappa Alpha Pink Ice Gala Community Service Award and the Delta Sigma Theta Golden Torch Award. He is a member of the Omega Psi Phi and Sigma Pi Phi national fraternities.
Haley has been  a Woodruff Leadership Academy Fellow at Emory University and completed a Fellowship for  the National Association of Public Hospitals (NAPH) program.. He is a member of the American College of Emergency Physicians, the American College of Healthcare Executives and the American College of Physician Executives. He was also  a member of the Institute of Medicine Committee on Health and Insurance Status.
Haley is an active member of the Georgia Trauma Network Commission and   the Boards of Leadership Atlanta, Camp Twin Lakes, the Grady Foundation and the National Public Health and Hospital Institute , . In addition, Haley is a member of the National Advisory Boards for the Agency of Healthcare Reasearch and Quality (AHRQ) and the Griffith Leadership Center at the University of Michigan.
Hany Atallah, MD, will be promoted to chief of emergency medicine, Grady Health System and medical director for the Emergency Care Center (ECC) at Grady, replacing Haley in those roles. Atallah joined the faculty in the Department of Emergency Medicine in 2003 and was appointed associate medical director for the ECC in 2008. Atallah has been instrumental in helping to improve and streamline clinical operations in the ECC and the Marcus Trauma Center.
---