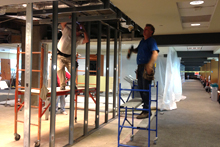 It's "jumpy" at the MacMillan Law Library right now as nail guns and impact hammers loudly proclaim a revamp of main floor space there, according to Felicity Walsh, associate librarian for access and student services at Emory Law.  
This "very brief" renovation project is expected to finish by mid-July.   
"We are consolidating our desks for circulation and reference," Walsh says. "The desks will still have their specialties; they'll just live in one place."  
Post-Memorial Day demolition took out a workroom and a wall behind the circulation desk. The desk will be expanded back into that newly opened up area to accommodate circulation and reference service points side-by-side. The scanner room is being moved out of the middle of the floor to the wall to give the floor a lighter and neater look, she says.  
"The floor is going to be much more open, and you will have a clear line of sight when you walk in," Walsh notes. The result: A much larger space for events such as first-year law student orientation held in fall, and one that will make it easier for people to meet.  
It will also make for more efficient staffing, Walsh says.  
Carpeting and some lighting on the second floor are also being redone. The other four floors of the library, which house the books, periodicals and other materials, will stay as they are and are available for patrons who need study space throughout the summer.
"We rethought the space to consolidate services by making them easy to find and figure out, and to emphasize service," Walsh says. "Patrons are the focus."
---