At Emory, summer offers a smorgasbord of activities, with flavors both bold and subtle — get-out-there activities that range from intense and fun-driven to those that are laidback and easy.
More than anything, it's an opportunity to use the quieter summer on campus to sample something new.
Here are a few seasonal activities to check out: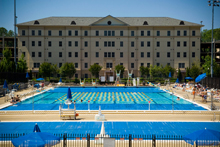 1. The Student Activity and Academic Center (SAAC) on the Clairmont Campus is a hub of activities and opportunities for individuals and families this summer.
Swim in the freshly renovated pools, featuring new tile and plaster, an improved deck and new shade structure.
Try swimming lessons, available for adults and children.
Hold a birthday party, special event or celebration at the pool.
Take advantage of 14 different fitness classes per week, including Upper Body Blast & Core Crusher, Water Pulse, yoga, Pilates, samba and boot camp.
Engage in outdoor sports like sand volleyball, tennis and basketball.
"A popular activity is to run from the main campus or through Lullwater Preserve to the Clairmont Campus and have a swim," says Timber Hines, SAAC director.
The Woodruff P.E. Center and Blomeyer Health Fitness Center offer fitness classes throughout the summer.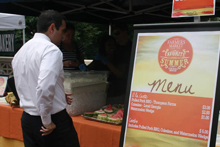 2. Emory Farmers Market features special summer events:
The annual Ice Cream Social on June 25, features low-priced tastes and unique flavors. Ice cream will be provided by Honeysuckle Gelato at $2.50 for  a small or $3.50 medium scoop. There will also be an opportunity to win an ice cream maker. 
The Favorite Flavors of Summer event on July 23 features a pulled pork plate and the popular annual watermelon seed-spitting contest.
Both are held from noon to 2 p.m. on Cox Hall Bridge. Farmers Market vendors will also be back on both of those days selling organic produce, honey, eggs, baked goods and more.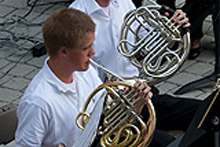 3. Combine an outdoor musical treat with a bring-your-own picnic with family or friends at two twilight concerts July 11 and 18. The Emory Summer Concert Band and director Scott Stewart will entertain in the Jenkins Courtyard at Goizueta Business School.
4. Deals are available on a number of events and activities off campus.
Discounted tickets to Six Flags, White Water, Stone Mountain Park movies and the Titanic and Bodies exhibits at Atlantic Station are available.
Go even farther afield for less with discounts available through Sparkfly, a company that partners with Emory to offer special rates and deals for employees.
5. For something a little more laid back, check out or download summer reading, including popular fiction and "beach reads" from the Woodruff Libraries' collection of hardbacks, ebooks and audiobooks, available to all Emory employees. Movies and music are also available for checkout.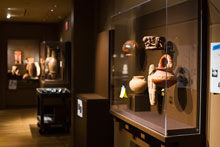 6. Bring friends and family to Emory's Michael C. Carlos Museum during the months of June and July when admission is reduced to $6. And the admission fee will be waived completely for all visitors from 1-5 p.m. on June 13, June 27, July 11 and July 25. Admission is always free for Emory faculty, staff and students. For more information: carlos.emory.edu.
7. See other arton campus, all of which is free, including the extensive collection of African art throughout the Claudia Rollins Building at the School of Public Health. The Goizueta Business School houses the Balser Art Collection, a showcase of 20th and 21st century works. A catalog in the lobby area is available as a guide. And the Visual Arts Gallery opens an exhibition by alumna Charlie Watts, "The ThrowAways: A Photographic Exploration of Sex Trafficking," on June 20.
---