To support Emory's growth in the realm of digital scholarship, the Emory Center for Digital Scholarship (ECDS) will open at the Robert W. Woodruff Library, a move to unify existing digital support services into a centralized resource for teaching and research.  
The new center will draw together several units to provide an enhanced, more seamless set of services.  
The reorganization of digital services is part of a broader restructuring of the library and information technology organizations being implemented under the leadership of Rich Mendola, who recently took the helm as enterprise chief information officer and senior vice provost for library services and digital scholarship.  
The services include:  
Independently, each unit has a proven history of collaborating with Emory scholars who seek to incorporate technology into their teaching and research, says Mendola.  
Consolidating those units should improve efficiencies and streamline services, resulting in a "one-stop shopping" experience for faculty, staff and students, he adds.  
Recommendations for the consolidation emerged from a four-month study, but Mendola says that the concept has been discussed within the library system for years.  
"The great services that these units currently offer are not going away," he notes. "Our goal is to extend them, enhance them and make them more efficient."  
Digital resources under one roof
The new ECDS will have a physical home in the Woodruff Library, but will also provide a virtual "umbrella" so faculty and students can access services in the center from multiple points across campus, says Mendola.  
"For example, if you're a graduate student working at the Cox Hall Computing Center or the Woodruff Health Sciences library and you need a consult on a project, the staff there will be trained to help you connect with the right resources in ECDS," explains Mendola.  
"Beyond a change in how the services in ECDS are bundled, this will clearly represent a new and synergistic way of thinking about the resources in the library and information technology organizations."  
According to Mendola, the move will require a "re-imagining and reconfiguration" of space now occupied by the Research Commons on the library's third floor, currently home to DiSC and an open, collaborative interdisciplinary workspace.  
To strengthen the environment for collaboration and innovation, the Center for Faculty Development and Excellence (CFDE) will also move from the 1599 building and co-locate within the new ECDS space, Mendola confirms — although it will remain "an independent neighbor."  
How that space will look by the beginning of the fall semester is currently under review, with decisions expected to emerge within the next few months, Mendola says. But he predicts providing a concentration of talent and expertise will promote strong partnerships throughout the ECDS and the Emory community.  
Donna Troka, associate director of CFDE, reports that her office is delighted with the opportunity to move to the heart of campus. They will begin meetings next week to finalize details and a timeline.  
"We are thrilled with the arrangement because it will make collaboration with ECIT and DiSC even easier, while familiarizing us with other centers that are now under the ECDS umbrella," Troka says.  
"I think it will also enable us to develop more robust programming and support for digital publishing and digital scholarship," she says. "All in all, it's a win-win situation."  
Leadership with deep digital roots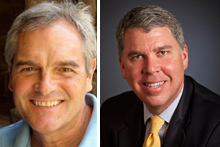 Co-directors Allen Tullos and Wayne Morse
Guiding the new ECDS endeavor will be two co-directors, a senior faculty member and an operations director both well versed in digital scholarship at Emory.  
History Professor Allen Tullos joins ECDS as faculty co-director. Tullos has served as senior editor and co-founder of the interdisciplinary multimedia journal

Southern Spaces

and is experienced with incorporating technology into research, publications and the classroom.  
Wayne Morse joins ECDS as interim co-director. As the director of ECIT, he has helped Emory faculty bring technology into their teaching. Morse has been involved with e-learning and instructional technology for nearly 20 years.  
Tullos believes the consolidation is a logical next step for digital scholarship at Emory. "And it's a good sign for interdisciplinary work that the library physically remains the center of the University, even in this new, digital moment," he explains.  
The plan also fits well within Emory College's initiative to explore new and emerging growth areas, including digital studies and new media as well as hopes to foster a stronger relationship with CFDE, Tullos adds.  
"Part of our role will be to help new faculty working on digital projects and established faculty who want to try out these projects — to make them feel like they have someone who can advocate for them and help them find ways to accomplish their goals," Tullos says.  
ECDS services will be positioned to offer faculty a broad range of assistance, from "new areas of data mining and media interpretation — adapting very large bodies of data to very particular kinds of projects — to singular kinds of projects, like the 'Poets and Place' project with Natasha Trethewey," Tullos says.  
"So there are very different kinds of tools and skills available, depending upon the field and the faculty," he adds. "It's part of our aim to put those together, to build upon them."  
ECDS will also continue to serve as an active training ground for graduate students seeking to expand or acquire new skills, Morse notes.  
Morse and Tullos plan to meet with individual units over the summer to determine how the operations will fit together. By the time students return in the fall, there should be a physical change to the Digital Commons, a sense of something new and exciting taking shape.  
"Overall, the feedback has been very positive," Morse says. "I think everyone can see that it makes sense that we do this in a way that supports what we have and what's about to be created."  
---