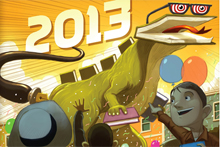 Emory University will help kick off the AJC Decatur Book Festival on Friday, Aug. 30, hosting U.S. Congressman John Lewis (D-Ga.) as the keynote speaker in the Schwartz Center for Performing Arts just two days after the 50th anniversary of the historic March on Washington.  
Lewis, who shares his story of a lifelong dedication to advancing civil and human rights in in his new graphic novel trilogy "March," is among hundreds of authors – including many Emory writers – featured in the 8th annual AJC Decatur Book Fest Aug. 30-Sept. 1.  
Emory is a major sponsor of this local Labor Day tradition. The largest independent book festival in the nation is expected to attract upwards of 75,000 festival-goers to Decatur Square for readings, panels and performances.  
"The AJC Decatur Book Festival has grown into an amazing community event, and as part of that local community, Emory is proud to be a sponsor and an active participant in the festival," says Ginger Smith, director of external affairs for the Emory Libraries.  
Introducing art|DBF
A new highlight for 2013 is art|DBF, a showcase of art and culture featuring top Atlanta arts organizations. Emory participants include Arts at Emory, Emory Dance Company, Emory Center for Ethics and student a capella groups AHANA A Capella, Dooley Noted, No Strings Attached and The Gathering.  
Art|DBF is expected to engage book lovers' imaginations with arts activities as it seeks to connect community members with the artistic and cultural opportunities around them.  
Julie Delliquanti, head of public programming at the High Museum of Art and former director of Emory's Schatten Gallery, is organizing this inaugural event.  
"The festival is a great incubator for artists, dancers, musicians, poets, a great place for people to come together and think about ways that they can collaborate," Delliquanti says. "We're hoping that some really wonderful, magical things will come out of these conversations."
When the sun goes down, party at art|DBF After Dark, an arts and culture street party. Starting at 7 p.m. on Saturday, Aug. 31, see a light projection; pop-up performances by Atlanta Ballet's Wabi Sabi, The Atlanta Opera, Staib Dance, 7 Stages and Serenbe Playhouse; dance to Atlanta DJ Agent 45 and get specials at Decatur restaurants.
Emory at the festival
At the Emory tent at the corner of Clairemont and East Ponce de Leon avenues in the heart of Decatur Square, Emory Libraries and other campus groups will share information about their resources.  
Several new author tracks will be added this year, and Emory's Raymond Danowski Poetry Library track will reach new levels with the debut of The Best American Poetry series and award-winning poets, including Richard Blanco who wrote the poem for Barack Obama's 2013 presidential inauguration. 
Emory faculty authors featured at the festival include:
  Cross-campus partners who are collaborating on the sponsorship include:  
Arts at Emory
Center for Faculty Development and Excellence
Creative Writing Program
Creativity: Arts and Innovation
Communications and Marketing Division
Development and Alumni Relations
Emory Continuing Education
Emory Libraries, including the Manuscript, Archives, and Rare Book Library and the Raymond Danowski Poetry Library
Michael C. Carlos Museum Bookstore
Barnes & Noble is the official bookseller for the keynote event at Emory.
All events are free and open to the public, except for the keynote address, which is sold out.
---