Emory surgeon Linda Cendales commanded the full attention of a high-powered group gathered at Emory—including National Institutes of Health (NIH) Director Francis Collins and research leaders from top Georgia universities—when she showed a slide from a pivotal point in Georgia's first hand transplant.
After nearly 19 hours of carefully lining up and connecting bones, tendons, nerves and vessels through a high-powered microscope, the moment of truth occurs when the tourniquet is released, said Cendales, and the newly attached hand attains a healthy glow.
Applied research, such as this 2011 hand transplant for 21-year-old Georgia college student Linda Lu, is a priority of NIH funding, and Emory had the rare opportunity to showcase some of the University's most groundbreaking discoveries when Collins and Rep. Jack Kingston (R-GA) visited Emory May 29-30.
As director of NIH, Collins oversees the work of the largest supporter of biomedical research in the world. Georgia is a "hotbed of great science and wonderful interactive research from basic to clinical," he said. "There are remarkable achievements made here every day, and at NIH, we're counting on that."
Georgia's collaborative spirit of research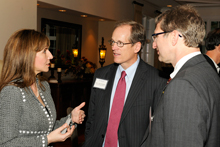 Emory surgeon Linda Cendales (left) discusses applied research with Congressman Jack Kingston (center).
The May 29 visit began with a tour of Emory's new Health Sciences Research Building with congressional staffer John Bartrum. Working for Kingston, who is chair of the House Appropriations Subcommittee on Labor, Health and Human Services, Education and Related Agencies, Bartrum is responsible for drafting the bill that funds NIH as well as many other programs that Emory cares about.
The day concluded with an evening reception at Lullwater House hosted by President James Wagner.
"We are here to celebrate research in Georgia, and especially its collaborative spirit," Wagner said, welcoming the select group of university presidents, government officials, and top researchers from Emory's Winship Cancer Institute and School of Medicine, Georgia Regents University, Morehouse School of Medicine, Georgia Institute of Technology, the University of Georgia, Georgia State University, Mercer University and Georgia Southern University.
Wagner pointed to the Georgia Research Alliance's Eminent Scholars program, the nationally ranked Coulter Department of Biomedical Engineering at Georgia Tech and Emory, the Atlanta Clinical and Translational Science Institute, the Centers for Disease Control and Prevention's (CDC) alliances, and a half-dozen other examples of stellar public-private collaborations.
"Government and university partnerships, which began in the 1940s, made America a leader in health sciences and was good for the world," Wagner said. "It's an experiment that succeeded, and one we'd be well advised to continue."
Kingston agreed that "the people in the lab with the white coats—that's where the money needs to be invested," adding that everything from the near-eradication of polio to falling stroke and cancer rates is due to American research dollars.
"The story about research here in the state of Georgia is a great one, and we need to be telling it over and over again," he said.
Collins, a physician-geneticist who previously led the International Human Genome Project, began his talk by addressing the frustration of maintaining support for research "at a time when budgetary constraints are historically challenging."
The sequester has hurt funding across the board, he says—$1.7 billion was taken from NIH's budget, which translates into 703 grants not given and 500 jobs going away this year. "This is what wakes me up at night," Collins said. "Which of those 703 grants was going to lead to something that now we're not going to see happen? Which young investigators are going to give up? I'm on Twitter, and I tweeted 'tell me your story,' and got over 2,000 responses. I would challenge you to read those and not feel really troubled."
While countries like China, India, and even Germany are increasing their research funding, he said, "we are just hoping not to go farther down, which seems anachronistic."
Of NIH's funding, 84 percent goes to institutions all over the U.S., and Georgia gets a "substantial share" of that—nearly $465 million last year alone, which resulted in 10,300 "high-quality, high-paying" jobs. (Emory received $299 million in NIH grants in 2012, the highest of any university in the state.)
Priorities for the NIH, said Collins, include Alzheimer's research ("a threat which will bankrupt us"), cancer ("a disease of DNA—what's causing that good cell to go bad?"), diabetes and obesity ("an epidemic we're in the midst of") and personalized treatment plans that are individual for each patient. 
"It's a noble enterprise we're all a part of, and it really does matter," Collins concluded.
A critical juncture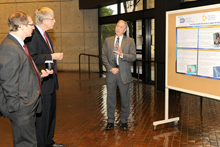 David Stephens (right), Emory's vice president for research, talks with Collins (center) at the poster session.
At a fast-moving poster and presentation session at the Woodruff Health Sciences Center Administration Building the following morning, research was presented to Collins and Kingston by researchers based at Emory, University of Georgia, Morehouse, Georgia Tech and Georgia State. Of note was the number of translational research programs that partner with Emory's Yerkes National Primate Research Center in critical investigations leading to significant discoveries in advancing clinical care for complex diseases. Topics included brain imaging, regenerative engineering and medicine, infectious disease and drug discovery, neuroscience, hand transplants, lung cancer, the Atlanta Clinical and Translational Science Institute, influenza, HIV, diabetes, community health programs, glycoscience, strokes, stem cell engineering, and inflammation, among others.
The group adjourned midmorning for a roundtable at the CDC, where the discussion centered on the impact of NIH and CDC policies and processes on the Georgia research community. David Stephens, vice president for research in Emory's Woodruff Health Sciences Center, spoke about the progress that has been fostered by the research-government partnership, including better health outcomes and economic benefits. He highlighted Emory's challenges, including sustained funding cuts and increased levels of regulation. CDC Director Thomas Frieden, as well as Collins and Kingston, expressed interest in mitigating unnecessary and unfunded regulatory burdens and fostering young researcher pipeline avenues.
"Director Collins' visit to Emory is a testament to Emory's research quality and a reminder that events playing out in our nation's capital directly impact our institution," said Cameron Taylor, director of federal affairs for Emory's Office of Governmental and Community Affairs. 
NIH grants are also good for Georgia's economy, she adds. Every $1 of NIH's competitively awarded funding has been estimated to translate into $2.21 for the economy.
---