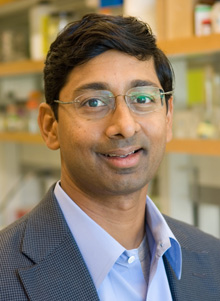 The Georgia Institute of Technology and Emory University have selected Ravi V. Bellamkonda, PhD, a prominent biomedical scientist and engineer, to chair their joint department of biomedical engineering. He will begin as chair of the Wallace H. Coulter Department of Biomedical Engineering at Georgia Tech and Emory University in July.     
Bellamkonda, who has built a distinguished career in the health and engineering fields, is currently the Carol Ann and David D. Flanagan Chair in Biomedical Engineering and a Georgia Research Alliance Distinguished Cancer Scientist. He currently serves as the Georgia Tech associate vice president for research, and he is the new president-elect for the American Institute for Medical and Biological Engineering (AIMBE).
Bellamkonda's appointment concludes a national search begun last year to fill the position, which is responsible for overseeing the department's academic and research programs in areas such as biomedical imaging, tissue engineering, cancer technologies, neuroscience, computer-assisted surgery and drug delivery. The department has 40 faculty members at Georgia Tech and Emory. More than 1,300 undergraduate and graduate students are enrolled in the program.
"Ravi is an outstanding leader who has proven his dedication to the department. He is a brilliant researcher and is focused on evolving local and national collaborations to enhance research and education efforts," says Gary S. May, PhD, dean of the College of Engineering at Georgia Tech.
"We are extremely fortunate to have Ravi Bellamkonda as chair of our nationally recognized joint department," says Christian P. Larsen, MD, PhD, dean of Emory University School of Medicine. "I am confident that as a proven educator, researcher, and leader in his profession he will guide our faculty and students to new levels of excellence."
Bellamkonda's recruitment also builds on a growing collaboration among the Department of Biomedical Engineering, the Emory Department of Pediatrics and the Winship Cancer Institute at Emory to build bioengineering programs for pediatric bioengineering and cancer diagnosis and treatment. Bellamkonda succeeds Larry McIntire, PhD, who is retiring after 10 years as chair of the joint department.
Prior to joining Georgia Tech in 2003, Bellamkonda was an associate professor and associate chair for graduate education in the Department of Biomedical Engineering at Case Western Reserve University. He has also served as a post-doctoral research fellow in the Department of Brain and Cognitive Sciences at the Massachusetts Institute of Technology.  Bellamkonda was awarded his PhD from Brown University in 1994.
His various awards include: Fellow of Biomedical Engineering Society and the Institute of Physics, and 'Best Professor' Award conferred by the undergraduate student body of the Wallace H. Coulter Department of Biomedical Engineering at Georgia Tech and Emory University. Bellamkonda was inducted as an AIMBE Fellow in 2006 and served on AIMBE's board as vice president, at-large, before being elected to president-elect.
Bellamkonda has published more than 175 books, chapters, articles, abstracts and proceedings. He is the founding scientist of two companies and has three U.S. patents with two additional ones pending.
"It is with a great sense of excitement that I look to helping lead this outstanding department and continuing its development as the best in the nation in biomedical engineering research and education," says Bellamkonda.
Bellamkonda's research is focused on neural tissue engineering, targeted drug delivery for brain tumor therapy, and peripheral and central nerve regeneration.
Georgia Tech and Emory created the joint department of biomedical engineering in the fall of 1997. The collaborative relationship blends the expertise of medical researchers at the Emory University School of Medicine with that of the engineering faculty at Georgia Tech, and is the first of its kind between a public and private institution. The collaboration has resulted in a biomedical engineering program ranked second in the nation by U.S. News & World Report.
---