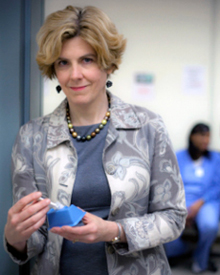 Voluntary HIV screening in jails as part of routine intake evaluations could identify new infections in at-risk populations and lead to earlier medical care, say public health researchers at Emory's Rollins School of Public Health and the Centers for Disease Control and Prevention (CDC).
Between January 1, 2011 and March 15, 2012, Fulton County Jail integrated a voluntary, rapid HIV screening project into its medical intake process, working with the Emory and CDC researchers. As a result, 12,141 HIV tests were conducted for those not indicating a previous HIV diagnosis, and 52 newly diagnosed HIV infections were identified.
Complete results from the project are published in the CDC's June 20, 2013 Morbidity and Mortality Weekly Report (MMWR).
"Our studies have shown that 2-3 percent of persons at our jails in Atlanta have HIV," says lead investigator Anne Spaulding, MD, MPH, assistant professor of epidemiology at Rollins School of Public Health. "Programs such as this are an economical way for society to help those with HIV learn about their status, receive proper treatment, and prevent the spread of future infections. The cost per diagnosis is less than half the cost of diagnosing HIV in other settings."
Of the 52 total cases, 47 black men and five black women were diagnosed with HIV infections. The results also indicated that nearly 40 percent of the newly diagnosed men reported having sex with men (MSM) before entering jail. These findings mirror the national HIV epidemic, with African American men and women and MSM, hardest-hit.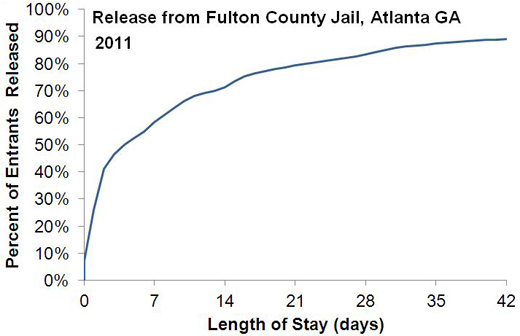 Figure. Time until Release, Entrants with Newly Diagnosed HIV versus All Other Entrants, Fulton Co. (GA) Jail, January 2011- December 2011

"Black men who have sex with men are disproportionately infected with HIV, and about 59 percent of black MSM are unaware that they are infected," explains Spaulding. "Integrating the voluntary HIV screening into the medical evaluation process in jails that are located in high HIV-prevalence, inner-city communities could help to decrease the stigma of HIV testing in jails and ultimately decrease the number of individuals who are unaware of their infection."
Diagnosis of HIV infection is the initial step in accessing care and treatment services and preventing future cases of infection. CDC recommends all adults and adolescents be tested at least once and that MSM and other high-risk persons be tested more frequently. Thirty-one percent of those diagnosed in this study were never previously tested for HIV and only 15 percent reported being tested in the past year.
All diagnosed inmates were provided medical care in the facility and referred to community services upon release. According to Spaulding, without this screening project, these individuals would likely have been diagnosed later in the course of their infection, resulting in delayed access to care and treatment and possible transmission of HIV to their partners.
"This project demonstrated that a large jail in a high prevalence community can incorporate routine screening to identify those who were previously unaware of their status," concludes Spaulding. "The concern however is that because of the very short median detention period for inmates, most detainees with new diagnoses could be released before completion of pretreatment evaluation and initiation of HIV therapy. Implementing programs that link people with HIV to care, prevention, and support services could help ensure access to care for those leaving jail."
---