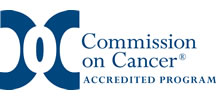 The Commission on Cancer (CoC) of the American College of Surgeons has granted a three-year accreditation to the cancer program at Emory Johns Creek Hospital, signifying the "Hallmark of Excellence" in cancer care programs.
To earn voluntary CoC accreditation, a cancer program must meet 34 CoC quality care standards, be evaluated every three years through a survey process, and maintain levels of excellence in the delivery of comprehensive patient-centered care.
Patients who come to Emory Johns Creek Hospital for their cancer care can expect a multidisciplinary, team approach in treating their cancer as a complex group of diseases that requires consultation among surgeons, medical and radiation oncologists, diagnostic radiologists, pathologists and other cancer specialists. This multidisciplinary partnership results in improved patient care. 
"We are committed to providing the best high-quality oncology care to our patients that is close to home," says Stephen Szabo, MD, who leads the cancer committee at Emory Johns Creek Hospital and is an oncologist with Georgia Cancer Specialists. "This CoC accreditation means that patients will have access to information on clinical trials and the newest treatments available for all types of cancers. We will also provide assessment of their treatment plans based on evidence-based national treatment guidelines."
Like all CoC-accredited facilities, Emory Johns Creek Hospital will maintain a cancer registry and contribute data to the National Cancer Data Base (NCDB), a joint program of the CoC and American Cancer Society. This nationwide oncology outcomes database is the largest clinical disease registry in the world. Data on all types of cancer are tracked and analyzed through the NCDB and used to explore trends in cancer care. CoC-accredited cancer centers, in turn, have access to information derived from this type of data analysis, which is used to create national, regional, and state benchmark reports. These reports help CoC facilities with their quality improvement efforts.  
"Contributing to the National Cancer Data Base and reviewing benchmark reports will enable us to examine our performance with nationally recognized quality measures and standards of care," explains Craig McCoy, CEO of Emory Johns Creek Hospital. "We believe these extra quality measures will benefit cancer survivors and help improve their quality of life."
---