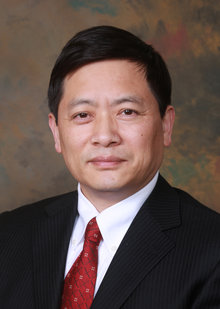 A new, minimally invasive procedure being performed at Emory University Hospital is helping patients who suffer from achalasia, a disorder of the esophagus that causes swallowing difficulties. Following the new procedure, patients experience a shorter hospital stay and shorter recovery time.
When a person swallows, a muscular ring located where the esophagus and stomach join, called the lower esophageal sphincter (or LES), normally relaxes to allow food to pass into the stomach. In people who have achalasia, this muscular ring does not relax properly. The condition can cause difficulty swallowing, choking, reflux, cough and chest pain. Experts say some type of damage to the nerves of the esophagus causes achalasia.
Traditionally, medications, Botox injections and dilation, all used to relax the lower esophageal sphincter, are first line treatments for the condition. If those options don't work, doctors recommend surgery. The open surgical procedure involves cutting the lower part of the esophagus lengthwise, as well as the LES, by way of an abdominal incision or chest incision, or both.
The new procedure being offered at Emory doesn't involve surgery. Pioneered in Japan and China, the procedure is called POEM or Per-Oral Endoscopic Myotomy.
"This procedure is unique because we use an endoscope and small knife through the scope to create a tunnel under the esophageal mucosa," says Qiang Cai, MD, PhD, professor of medicine in the Division of Digestive Diseases, Emory University School of Medicine. "Then we cut the circular muscle around the esophagus to release the tightness at the end of the esophagus, while leaving the longitudinal muscle intact. No skin incision is made."
Cai is also a professor in universities in China, and he travelled between China and the U.S. frequently learning how to perform ESD (endoscopic submucosal dissection) and POEM. He brought ESD and POEM back to Atlanta and Emory last year. Emory is one of the few centers in the U.S. offering the POEM procedure to patients at this time.
"We believe this technique is much better for the patient because the procedure is effective, shorter, causes less complications and patients recover more quickly without skin incisions," says Cai.
Most insurance companies cover the POEM procedure.
---