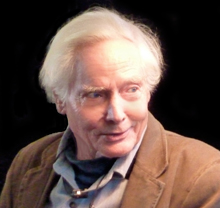 Poet W.S. Merwin will visit Emory University for an onstage conversation with Kevin Young, during which Merwin will read some of his poems. The event, which is open to the public at no charge, will start at 6 pm on Monday, May 6 in the Jones Room on level 3 of the Robert W. Woodruff Library.
The U.S. poet laureate in 2010, Merwin is the author of more than 50 collections of poetry, prose and translations, and the Pulitzer Prize winner for two books of poetry: "The Carrier of Ladders" in 1971 and "The Shadow of Sirius" in 2009.  
He won the National Book Award in 2005 for "Migration: New and Selected Poems."  
Merwin is best known for his anti-war convictions, particularly his opposition to the Vietnam War, as well as his love of nature; he lives in Hawaii and has studied Buddhism.
"W. S. Merwin is one of the most distinguished poets of our time, and he has given his voice to subjects of immense significance, ranging from classical civilization to the sacredness of the natural world," says Rosemary Magee, director of the Manuscript, Archives, and Rare Book Library (MARBL). "There is a spirituality to his work intermingled with its physicality. His presence, as part of the Raymond Danowski poetry series, signals the ongoing power of poetry on the Emory campus."
Light refreshments will be served, and a selection of Merwin's books will be available for sale and signing. The reading, part of MARBL's Raymond Danowski Poetry Library Reading Series, is sponsored by MARBL, Emory Libraries, and the Hightower Fund.
---