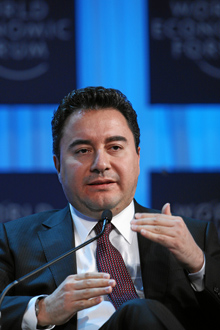 Ali Babacan, deputy prime minister for economic and financial affairs of the Republic of Turkey, will deliver a public talk on Turkey's economic outlook and business potential at 2:30 p.m. Tuesday, April 16 in Boynton Auditorium of Emory University's Goizueta Business School, 1300 Clifton Rd. 
Babacan will address Turkey's increasing influence in the region and beyond and potential for American companies to do business in the country. The event is sponsored by Goizueta Business School's Global Perspectives Program, the Claus M. Halle Institute for Global Learning and Emory's Department of Economics.
Since 2009, Babacan has served as deputy prime minister for economic and financial affairs under the leadership of Prime Minister Recep Erdoğan and President Abdullah Gül.
Babacan is among the co-founders of Justice and Development Party and has been a constant cabinet member since 2002. He was appointed minister of treasury and later as chief negotiator in Turkey's bid to join the European Union. He also served as the minister of foreign affairs and currently is a member of National Security Council.  
Admission to the lecture is free, but guests should register to attend.
Event parking
Parking is available in the Fishburne Deck, 1672 North Decatur Rd.
About the Halle Institute
Established in 1997 with a gift from Claus M. Halle, the Halle Institute for Global Learning is Emory's premier venue for visits by heads of state, distinguished policymakers and influential public intellectuals from around the world. The Halle Institute's programs strengthen faculty distinction, prepare engaged scholars and foster greater involvement from local, national and international communities.
---