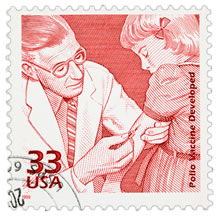 More than 400 scientists, doctors and public health experts from 80 countries around the world recently launched the Scientific Declaration on Polio Eradication, declaring that an end to the paralyzing disease is achievable and endorsing a comprehensive new strategy for a polio-free world by 2018. The declaration's launch coincides with the 58th anniversary of the announcement of Jonas Salk's polio vaccine.
The plan will be publicly shared with the immunization community at the Global Vaccine Summit taking place April 24-25 in Abu Dhabi.
Walter Orenstein, professor and associate director of the Emory Vaccine Center and former director of the Centers for Disease Control and Prevention's National Immunization Program, spearheaded the declaration along with Zulfiqar Bhutta, founding director of the Center of Excellence in Women and Child Health at Aga Khan University (Pakistan). While at CDC, Orenstein was on the frontlines of ending smallpox, the only human disease to be successfully eradicated.
Polio declaration housed at Emory
The polio declaration is housed online by the Emory Vaccine Center. It notes that polio vaccines have protected hundreds of millions of children from the disease and eliminated one of the three types of wild poliovirus, proving that eradication is scientifically feasible.
It calls on the international community for full funding and implementation of the Polio Eradication and Endgame Strategic Plan 2013-2018, developed by the Global Polio Eradication Initiative (GPEI). The plan includes delivering polio vaccines to more children at risk, particularly in Afghanistan, Nigeria and Pakistan, where polio remains endemic, but where recently implemented plans have resulted in significant improvements in vaccine coverage.
"I'm proud that the Emory Vaccine Center has hosted the website for this critical international effort," says Orenstein. "By following the plan developed by the GPEI, and particularly by achieving high levels of routine immunization, we have the ability to defeat polio. At the same time, our efforts can improve global health by strengthening coverage of other life-saving vaccines for children who do not normally receive health interventions."
Plan targets key challenges for eradication
The GPEI plan addresses some specific challenges to polio eradication, including:
reaching missed children to interrupt wild virus transmission
eliminating rare polio cases caused by the oral polio vaccine
an effort to phase out use of oral polio vaccines and introduce inactivated polio vaccines.
The declaration also stresses the need to protect polio vaccination teams as they do their work through increasing engagement with community and religious leaders.
'Unique window of opportunity' is now
The declaration notes a unique window of opportunity to eradicate polio. Only 223 new cases due to wild poliovirus were recorded in 2012. This is an historic low and a more than 99 percent decrease from the estimated 350,000 cases in 1988. Only 19 new cases have been reported thus far in 2013.
Of the three poliovirus serotypes, the last naturally occurring case of wild virus type 2 was reported in 1999, indicating that type appears to have been eradicated. Only one case of wild poliovirus type 3 has been reported in the last six months, suggesting that type is also on the verge of eradication.
Other Emory signatories include Rafi Ahmed, director of the Emory Vaccine Center; Jay Berkelhamer, clinical professor of pediatrics, Emory School of Medicine and senior physician advisor, Children's Healthcare of Atlanta; James Curran, dean, Rollins School of Public Health; William Foege, professor of global health emeritus, Rollins School of Public Health; Keith Klugman, professor of global health, Rollins School of Public Health; Jeffrey Koplan, vice president of global health, Emory University; Tristram Parslow, chair, Department of Pathology and Laboratory Medicine, Emory School of Medicine; David Stephens, vice president for research, Woodruff Health Sciences Center, Emory University; and Barbara Stoll, George W. Brumley professor and chair of pediatrics, Emory University School of Medicine.
For additional information about the Scientific Declaration, or to view a full list of signatories, visit Emory Vaccine Center.
The Polio Eradication and Endgame Strategic Plan 2013-2018 is available at Global Polio Eradication Initiative.
---