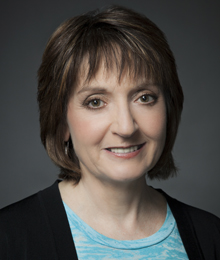 Helen Mayberg, MD, an expert in depression and the use of deep brain stimulation for severe depression, has received the 2013 Joan and Stanford Alexander Award in Psychiatry. Mayberg is a professor of Psychiatry, Neurology and Radiology and the Dorothy C. Fuqua Chair of Psychiatric Neuroimaging and Therapeutics at Emory University School of Medicine. 
The award was established in honor of Dr. Stuart Yudofsky, professor and chair of the Menninger Department of Psychiatry and Behavioral Sciences at Baylor College of Medicine and the award's first recipient. 
Each year the award honors a mental health professional who has made significant contributions in research, education and clinical or community service for people suffering from severe and persistent mental illness. The award consists of an annual prize and lecture of international scope. 
Mayberg received the award on April 17 and delivered a lecture titled "Rethinking Depression and its Treatment: Insights from Studies of Deep Brain Stimulation."
Over the last 20 years Mayberg has used functional neuroimaging to focus on brain circuits in depression and to determine the best treatment options.  Through clinical research, she and her colleagues have discovered that deep brain stimulation is a safe and effective therapy for patients with treatment-resistant depression and those with bipolar disorder. Deep-brain stimulation uses high-frequency electrical stimulation targeted to an area of the brain specific to the particular neuropsychiatric disorder. 
Mayberg continues to refine deep brain stimulation and to optimize improvement by using a model of care that includes predictors of response and remission and provides psychotherapeutic rehabilitation tailored to the specific individual's situation. 
"Helen is one of the most thoughtful and talented researchers in the field," says Mark H. Rapaport, MD, chair of the Department of Psychiatry and Behavioral Sciences at Emory School of Medicine. "One of the characteristics that makes Helen unique is that her intense drive to discover the biological basis of depression is driven by a deep concern for people suffering from depression. It is an honor to have her as a member of our department."
Previous winners of the Alexander Award, in addition to Dr. Yudofsky, are Eric Kandel, professor of psychiatry at Columbia University and Nobel Laureate in Medicine; Nora Volkow, director of the National Institute on Drug Abuse; and Marshal Linehan, professor of psychology at University of Washington and pioneer of dialectal behavioral therapy.
---