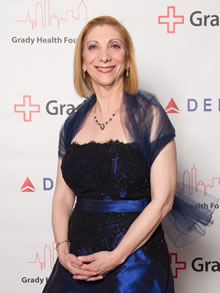 Nadine J. Kaslow, PhD, ABPP, professor in the Department of Psychiatry and Behavioral Sciences at Emory University School of Medicine, was presented with the Inspiring Mentor Award at the Third Annual White Coat Grady Gala.
Each year since 2011, during the White Coat Grady Gala, the Grady Health Foundation has honored exceptional Grady Memorial Hospital medical staff with awards in three separate categories: Inspiring Mentor, Senior Sage and Next Generation Healer, with an additional award for a community leader, called the Ada Lee and Pete Correll Healthcare Legacy Award. Andrea N. Smith, Director of Development for the Foundation, says the Inspiring Mentor Award is for the doctor "who is able to ignite the flame, leading others to reach levels they never knew they could."
According to Kaslow, "This award is one of the most meaningful and special gifts that I have ever received. Being honored for the work that matters the most to me and about which I am most passionate touches me deeply. Indeed, I love what I do so much at Grady that it feels less like work and more like fulfilling my life's dream." Kaslow expresses her gratitude to all those who have mentored her, most notably her patients. 
"Dr. Kaslow received a well-deserved honor for her life-long achievements as a mentor," says Mark Hyman Rapaport, MD, Reunette W. Harris Professor and Chair of the Department of Psychiatry and Behavioral Sciences. "Dr. Kaslow gives generously of her time to students, residents, post-doctoral students, and faculty from all parts of Grady, our University and individuals in the community."
Kaslow received her doctorate from the University of Houston and completed her internship and postdoctoral fellowship training at the University of Wisconsin. She is Board Certified in Clinical Psychology, Couple and Family Psychology, and Clinical Child and Adolescent Psychology. She joined the Emory University School of Medicine faculty in 1990 and has worked at Grady since that time. Kaslow says she chose Grady because of her commitment to helping underserved and underprivileged populations, and she sees her work there as an opportunity to train future generations of health care professionals in the delivery of compassionate care to urban populations.
In addition to her role as Emory School of Medicine faculty, Kaslow serves as vice-chair for Faculty Development in the Department of Psychiatry and Behavioral Sciences, chief psychologist at Grady Memorial Hospital, and director of the Psychology Postdoctoral Fellowship Program in Professional Psychology. She holds joint appointments in the Departments of Emergency Medicine, Pediatrics, and Emory's Rollins School of Public Health.
In 2013, Kaslow became president-elect of the American Psychological Association (APA) where she also serves as editor of APA's Journal of Family Psychology. During her career, she has authored more than 280 publications on matters concerning the assessment and treatment of family violence, depression and suicide in youth and adults, post-traumatic stress disorder, couples and family therapy, women's mental health, pediatric psychology, and a competency-based approach to psychology education and supervision.
Currently, Kaslow's research focuses on culturally competent assessment and treatment of suicidal behavior and intimate partner violence in African American women, and the impact of intimate partner violence on children; examining evidence-based interventions for posttraumatic stress disorder; and the development of an campus-wide suicide prevention program.
For her own enjoyment, Kaslow is devoted to the Atlanta Ballet, where she serves as psychologist, teacher and student. Dance has been part of her life since she was 3 years old.
---