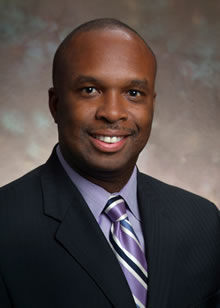 Leon L. Haley Jr., MD, MHSA, FACEP, CPE associate professor of emergency medicine at Emory University has been appointed to the National Advisory Council for Healthcare Research and Quality (AHRQ).
As one of 12 agencies within the Department of Health and Human Services, AHRQ's mission is to improve the quality, safety, efficiency and effectiveness of healthcare for all Americans.
Haley who serves as deputy chief of staff and deputy senior vice-president of medical affairs for Grady Health System, joins a 21-member panel comprised of diverse private-sector experts who recommend what AHRQ's research should address in order to promote improvements in the quality, outcomes and cost-effectiveness of clinical practice.
Also serving in an ex-officio capacity are representatives of seven Federal agencies that address healthcare system issues: The National Institutes of Health; the Department of Defense (Health Affairs); the Centers for Disease Control and Prevention; the Department of Veterans Affairs; the Office of Personnel Management; the Food and Drug Administration; the Centers for Medicare & Medicaid Services, and the Assistant Secretary for Health. 
Approximately 80 percent of AHRQ's budget is invested in grants and contracts focused on helping people make more informed decisions and improving the quality of health care services.
"I am honored to serve as member of the National Advisory Council for Healthcare Research and Quality. My experience at Grady Memorial Hospital - one of the largest emergency departments in the country has given me a unique and valuable perspective. As the region's premier Level 1 Trauma Center we continue to treat over 100,000 patients annually," says Haley. "In terms of health system administration we are committed to making care in the emergency department safe, effective, efficient and patient centered."
Haley joined the Emory University School of Medicine faculty in 1996. A native of Pittsburgh, Pennsylvania Haley received his undergraduate degree from Brown University, his medical degree from the University of Pittsburgh and his master's degree in health services administration from the University of Michigan. Haley completed his residency, including a year as Chief Resident, in Emergency Medicine at the Henry Ford Health System in Detroit, Michigan. Haley is Board-Certified in Emergency Medicine and a Fellow of the American College of Emergency Physicians.
Haley has interests and publications in health administration, operations and strategic management and diversity as it relates to healthcare and emergency medicine. He will serve a three year term with AHQR.
---