Long-term Collection Share Partnership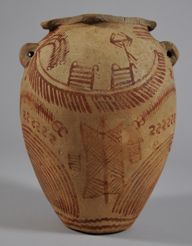 The Carlos Museum has entered into a long–term collection share agreement with the Houston Museum of Natural Science (HMNS). This Texas Museum is one of the top ten most visited museums in the country, collaborating with the Carlos Museum on conservation and research as it  develops a new 10,000-square-foot Egyptian Hall with antiquities drawn from the world's leading public and private collections.
The HMNS will support object treatment and conservation in the Carlos Museum's Parsons Conservation Lab and will link to the Carlos' work in Egypt, including Peter Lacovara's archaeological survey and findings in Abydos, while participating in other research opportunities. The Carlos Museum is loaning HMNS close to seventy-four objects currently in storage on a rotating basis for their Egyptian Hall. Texas scholars, students, patrons, and those interested in Egyptology may be able to enjoy future exhibitions from the Carlos Museum hosted by HMNS as the partnership deepens. This joint venture promises to be of tremendous benefit for both institutions, serving as a model for future co-operation between cultural institutions across the country.
Follow the HMNS blog for more on Lacovara's work in Egypt and the Carlos/HMNS partnership.
Lacovara, senior curator at the Carlos Museum, has worked on numerous expeditions in Egypt and published several books on his work and experience, including "The Pyramids and Sphinx, Tombs and Temples of Giza, and Excavating Egypt: Great Discoveries from the Petrie Museum of Egyptology."
---