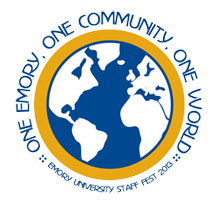 Emory School of Medicine employee William Payne is looking forward to getting his Staff Fest T-shirt. After all, he helped design it.
Payne is the winner of the Staff Fest Theme Contest, and this year's annual celebration of Emory employees will bear his theme "One Emory, One Community, One World."
Emory University Human Resources invited staff from across the university to submit ideas for the theme of Staff Fest 2013 – generating nearly 100 entries, says Manager of Employee Services Kay Manning.
Payne, an administrative assistant in the School of Medicine, says that he was inspired by a graphic he saw on the web, a map of the world made up of the flags of different countries.
"Our students continue on to teach and serve communities, all over the world," he says. "And I just kept coming back to this 'one world' concept."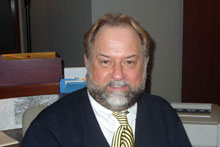 2013 Staff Fest logo winner, William Payne.
Payne has worked at Emory for 23 years. He says he is inspired by the "brilliant, highly motivated, giving people" who surround him, both at the School of Medicine and around the university. "It's just one big community, one Emory. I thought that sounded like a winning tagline, and it worked!"
Staff Fest, set for Friday, May 17 from 1 to 3 p.m. on the Quad, will feature games, snacks, music, dancing, a volleyball tournament and informational booths. Morning activities will include a Fun Run/Walk, and the Employee Council is organizing opportunities for community service. Staff Fest T-shirts with the "One Emory, One Community, One World" logo are on sale now in the Dobbs University Center and the 1599 Building lobby. Prices start at $7 and color choices are blue or gold. Visit the Staff Fest website for updates and more information.
Payne is looking forward to the fellowship of Staff Fest, to seeing colleagues from across the university that he might usually only talk to by phone or email.
"Staff Fest is a chance for all of us to take a break from our busy workday, celebrate our achievements for the past year, and enjoy time with our co-workers," says Del King, associate vice president of Human Resources. "Emory would not be where it is today without the hard work our staff, and Staff Fest is our opportunity to say thank you!"
"It's good to know that Staff Fest is all about us," adds Payne.
---