The 2013 Donna J. Brogan Lecture will be held on Monday, April 15, at 4 p.m. in the Claudia Nance Rollins Building of the Rollins School of Public Health.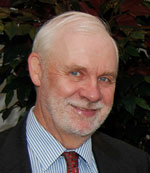 Roderick J. Little
Roderick J. Little of the University of Michigan will speak on "The Prevention and Treatment of Missing data in Clinical Trials." The talk and a reception will be held in the Lawrence P. and Ann Estes Klamon Room on the 8th floor.  
Little is the Richard D. Remington Collegiate Professor in the Department of Biostatistics at the University of Michigan. He also holds appointments in the Department of Statistics and the Institute for Social Research. He previously served as the inaugural associate director for research and methodology and chief scientist at the U.S. Census Bureau.  
In his talk, Roderick, who chaired a National Research Council panel on missing data in clinical trials, will review the main findings of the council's report and provide his perspective on analysis issues.
This annual lecture, which is free and open to the public, honors Professor Emerita Donna J. Brogan, former chair in the Department of Biostatistics of Rollins. It is
made possible in large part by the generous support of her and her colleagues and friends. 
For more information, contact Bob Waggoner or see the program flier.
---