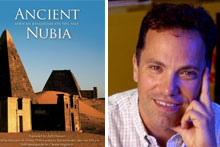 Peter Lacovara understands why so few people have heard of the ancient African kingdoms known as Nubia. For starters, its desert lands and Nile River rapids have made Nubia less accessible to archaeologists and historians than places like Egypt. "It's a very difficult place to get to," says Lacovara, senior curator of Egyptian, Nubian and Ancient Near Eastern Art at Emory's Carlos Museum. "It's always been an isolated spot."  
Lacovara and other renowned Egyptologists from around the nation have joined forces to publish "Ancient Nubia: African Kingdoms on the Nile" (AUC Press, 2012).  The book, which documents recent archaeological discoveries, guides readers through the history of Nubia from about 6000 BCE to 350 CE.  
Thousands of years ago, Nubia was ahead of its time with Roman baths, astronomical observatories, and other innovations, says Lacovara. "They were a very cosmopolitan and inventive culture … a remarkable civilization."  
Lacovara and the book's collaborators, including distinguished photographer Chester Higgins Jr., will discuss ancient Nubia and their new book at the Carlos Museum on Wednesday, April 23 at 7:30 p.m. The panel discussion and book signing is open to the public.
Listen to Peter Lacovara talk about ancient Nubia.
---