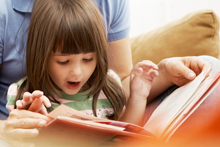 Parents and kids can enjoy an action packed day of arts and crafts, story time, music and dancing, and hobnob with "Tiana" from "The Princess and the Frog" at a community book fair sponsored by Emory University School of Medicine Department of Pediatrics Urban Health Program.
On Saturday, May 4th, pediatricians and third-year medical students from Emory are teaming up at the Barnes & Noble Edgewood to support Reach Out and Read, a nationwide early literacy program.
"With so many electronic distractions, fewer than half of parents in the United States read to their young children daily," says Veda Johnson, MD, executive director of Emory's Urban Health Program. "Reading aloud not only stimulates language development - it also builds motivation, curiosity and memory cognition. Events like this offer a fun way to introduce parents and caregivers to the importance of reading aloud to children. We want to nurture a nation of readers.
"By supporting our program, we get closer to our goal of giving every child between the ages of six months and five years that we see in our primary care clinic a new, developmentally-appropriate children's book to take home and keep." 
The event will be hosted at Barnes & Noble Edgewood at 1217 Caroline Street Northeast, Atlanta, GA 30307. The weekend schedule is as follows:  
Saturday, May 4th 10 a.m. – 5 p.m.
10 a.m.| Guitar solo by 3rd Year Medical Student Daniel Day Tucker
11 a.m.| Jessica Williams plays Tiana from "The Princess and the Frog" followed by arts and crafts session led by Charnet Clark Girl scout troop
1 p.m. | Kathy and Damien Nash,  "Big Box, Little Box" - listen to a wonderful story of how Little Box learns to reach his destiny with guidance from a wise Big Box. Autographs and craft activities to follow.
2 p.m. | Musical performance by "Threat Level Midnight"
3 p.m. | 3rd Year Medical Students and teddy bears show children what it's like to be a doctor
Ongoing arts and crafts including Dr. Seuss finger puppets, Storystarter pinwheels, "Cat in the Hat" hats and Mother's day cards
Resources for parents, adult literacy information, Reach Out and Read, local library addresses
"The Reach Out and Read Program provides books to families in our clinic who otherwise may not be able to afford them, and it's been great to see the enthusiastic reaction of our young patients receiving their very first book," says Laura Doerr, MD chief resident at Emory University School of Medicine, Department of Pediatrics.
All proceeds from the event will support the national "Reach Out and Read" program. Those who cannot attend the event, but wish to contribute to the Reach Out and Read program can purchase books online by visiting  BN.com/bookfairs between May 4-9, 2013  and entering bookfair ID # 11041555 at checkout.
Each year, medical providers at the nearly 5,000 Reach Out and Read program sites nationwide distribute 6.5 million books to children and invaluable literacy advice to parents.
---