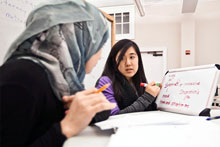 An Emory student tutors refugees in Clarkston, Ga.
Emory University's commitment to service and intensive campus-community partnerships has earned the university national recognition with selection to the 2013 President's Higher Education Community Service Honor Roll, with Distinction.  
The Corporation for National and Community Service selected 113 institutions for the Honor Roll, with Distinction. Emory also received the honor in 2010, as well as the Presidential Award for General Community Service in 2008, the highest federal recognition given to colleges and universities for their commitment to community service.
"We are delighted Emory has once again been recognized by the President's Higher Education Community Service Honor Roll for the breadth and depth of our community-engaged scholarship, learning and service," says Michael Rich, executive director of the Center for Community Partnerships (CFCP).
"This recognition acknowledges again that the university and the community can work together for the benefit of both," Rich says. "Faculty and students develop a deeper understanding of the relevance of their scholarship and learning, and communities gain engaged partners who can assist them in addressing important public problems."  
A major goal of the university's strategic plan is to "produce socially conscious leaders with a portfolio of skills proven and values tested in community involvement." Highlights of Emory's engaged scholarship, learning and service initiatives for the Honor Roll include:  
Oxford College Pierce Institute for Student Leadership and Community Engagement
The Pierce Institute supports and coordinates Oxford's efforts in leadership, community work, global engagement and religion, providing an avenue for volunteer opportunities and deeper academic and community engagement through courses that directly incorporate theory with practice.
Oxford's signature Bonner Leaders program provides a scholarship that allows students to earn an AmeriCorps Educational award for 300 hours of service.
Many Oxford students volunteer in Newton County Schools through programs like Emory Reads throughout the school year, contributing thousands of hours in service to local public schools.  
Office of Student Leadership and Service
Community-engaged learning and involvement expanded significantly last year through the efforts of Emory's Office of Student Leadership & Service (OSLS) in the division of Campus Life.
Through OSLS, Emory's Jumpstart Program added 55 AmeriCorps and volunteer positions, and students gave thousands of hours of service as readers and early learning coaches for preschoolers living in low-income neighborhoods.  
Volunteer Emory, the university's largest student organization, hired a third student co-director for the first time in its 32-year history, facilitated alternative break experiences, coordinated campus-wide service days, and created opportunities for more than 3,000 students, faculty, staff and alumni volunteers to provide thousands of service hours to Atlanta and surrounding communities in the Southeast.
Community Engaged Learning in Public Health
The Rollins School of Public Health's Office of Leadership & Community Engaged Learning supports student and faculty community efforts through 22 service-learning courses, certificate programs and other special programs through grants provided by the Emory's Center for Community Partnerships. Examples of community engagement at Rollins include:
A new partnership with the Hispanic Health Coalition of Georgia that included publishing the 2012 Georgia Latino Health Report and hosting the 2012 Latino Health Summit at Emory.
A new course connected RSPH students and Teach for America corps members in Atlanta public schools to address health issues in local communities, and
Peace Corps programs continue to serve local refugee organizations weekly with thousands of volunteer hours per year.   
Graduation Generation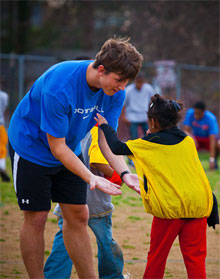 Graduation Generation was founded in 2010 to address some of the academic and socio-economic challenges that can affect high school dropout rates. The comprehensive effort, led by the CFCP, involves several community partners and focuses on the Coan-Jackson cluster in the Atlanta Public School system.  
Among other Graduation Generation initiatives, graduate students working with the Emory Center for Science Education gave hundreds of hours to help Coan teachers incorporate problem-based learning into several classes at the school. Emory students provided Coan with intensive tutoring, and Emory professors designed and helped implement new courses at the school as well.
Other Graduation Generation programming includes:
Edible Schoolyard: Environmental stewardship, an Emory priority, is a key feature of its school partnerships. Last year, Emory funded the continuation of a service-learning program tied to the Edible Schoolyard at Coan Middle School as part of Graduation Generation. The Edible Garden is used to facilitate hands-on learning, and provide students a service opportunity to grow and share vegetables with their school and community. Through participation in these activities, Coan students demonstrated improvement in academic achievement and life skills.   
Summer programs: Emory's summer programs provide academic and cultural enrichment for children from distressed communities and community-engaged learning opportunities for Emory students. Challenge and Champions provided children in grades 4-6, more than half of whom came from homeless shelters or low-income families, with three weeks of academic enrichment, health/physical fitness training, and study skills building. Emory's Graduation Generation initiative funded Coan students' participation in mixed-income academic, cultural and fitness camps. 
About the Honor Roll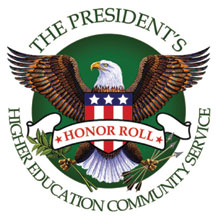 Inspired by the thousands of college students who traveled across the country to support relief efforts along the Gulf Coast after Hurricane Katrina, the Corporation for National and Community Service has administered the Honor Roll since 2006 and manages the program in collaboration with the U.S. Department of Education and the U.S. Department of Housing and Urban Development, as well as the American Council on Education and Campus Compact. More information on eligibility and the full list of Honor Roll awardees can be found at nationalservice.gov.
---