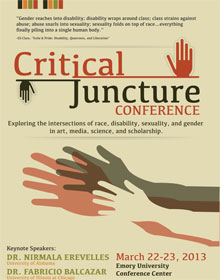 New scholarship exploring how complex social identities involving race, gender and disability affect and shape individuals, culture and society will be the focus of a conference at Emory March 22-23.
The conference, "Critical Juncture: Exploring the Intersections of Race, Gender and Disability," brings together established and emerging scholars from Emory and around the country and abroad, and provides graduate students with the opportunity to present and share their work.  
"Critical Juncture," organized primarily by Laney Graduate School students, will be held at the Emory Conference Center and is sponsored by the James Weldon Johnson Institute for the Study of Race and Difference (JWJI), the Graduate Institute of Liberal Arts (ILA), and the Office of the Provost.   
Participants will explore how multiple social identities, such as race, gender, disability, class and sexuality, interact with each other to create unique experiences for individuals in society, science, media, art and public spaces, says Jennifer Sarrett, an ILA doctoral candidate who has organized the conference with ILA graduate student Shan Mukhtar and JWJI director and sociology professor Tyrone Forman.  
"The work in what's known as 'intersectionality' has been increasingly applied to disability in recent years," Sarrett says. "We worked hard to bring a focus to disability at the conference, and we are excited to highlight new scholarship in this area."  
In that spirit, organizers are dedicated to making the conference as accessible to all populations as possible, with ramps, sign language interpreters and instructions to presenters about how to do an accessible Powerpoint presentation.  
Keynote speakers include Nirmala Erevelles, professor of educational and instructional leadership at the University of Alabama, and Fabricio Balcazar, professor in the department of disability and human development at the University of Illinois at Chicago.  
Emory professors Sander Gilman, Benjamin Reis and Rosemarie Garland-Thomson are also participatingIn addition to scholars, local and national artists will take part as panelists. The conference will end with a colloquium involving the audience and two keynote speakers in a discussion about the work presented and the future of intersectional work.  
Follow the event before and during on Twitter (@CriticalX2013) and Facebook.
---