Emory's religion scholars shared their views on current trends in religion and the media at a recent meeting of the National Association of College and University Chaplains held in Atlanta.
Islam and the media: a troubled history
"I don't think there's too much surprise that Islam has not been portrayed positively in American media," says James Hoesterey, assistant professor of religion and a specialist on Islam and popular culture. "This is not a phenomenon that is post 9/11," he adds, but has been around for some time.
Hoesterey says phrases such as "It's not Islamophobia, it's Islamorealism" get traction in news cycles because they're catchy. Nevertheless, he listens to both the glib and the profound, sifting through both so-called left- and right-wing publications and outlets, intent on getting a sense of the discussion and finding a point of entry into the conversation.
One cautionary note Hoesterey gives for both scholars of religion and the public is to "be cautious about always looking to religion as an explanatory model" for understanding issues that may be much more complex.
What is far more interesting, he says, is how young Muslims are using the media. A new tech-savvy transnational youth movement is attempting to provide a new spin on Islam. "What's happening within Islam is going to be far more important to the future of interreligious dialogue," he says.
When asked by an audience member: Where is the moderate Muslim voice? Hoesterey said moderate views "are being spread and promoted" through social media, but don't make the mainstream news "because it's feel good." The students in Hoesterey's religion and media class are looking at how to create a narrative of American nationalism that includes Islam.
Buddhism seen positively through major themes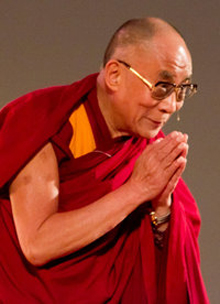 Overall, Buddhism is portrayed relatively positively in Western media, according Brendan Ozawa-de Silva, Religious Life Fellow at Emory and advisor on Buddhism to Dean of the Chapel and Religious Life Susan Henry-Crowe.
He lists coverage of the Dalai Lama as a leader of Buddhism and Buddhists worldwide as one of the major positive themes of media coverage, along with rising interest in meditation and its role in human wellbeing. The Dalai Lama is Presidential Distinguished Professor at Emory.
But it's the exponential growth of social media, says Ozawa-de Silva, "that requires a different way of messaging" about religion. Within academia, he sees graduate students embracing this reality, creating TED talks, videos and potentially reaching many more people than their predecessors, whose books and scholarly articles were the principal means of outreach.
Stories about Hinduism, India conflated
Joyce Fluekiger, professor of religion specializing in Hindu popular traditions, says the most notable thing about Hinduism in American media the lack of representation, except for a few human interest stories. And although there are lots of stories about India, she says, American audiences seem to conflate India and Hinduism.
Stereotypes also have been plentiful in coverage of Hinduism, says Fluekiger, such as "the annual story of a child marriage," which is rare and also illegal in India.
For Hindus in American there is an interesting relationship to the media, says Fluekiger. In contrast to India where Hindus are 85 percent of the population, Hindus as a minority in America "are trying to figure out how to make a space for themselves" and their representation in the media and public realm, says Fluekiger, "and they're looking to Jews for how to do it."
One caution Fluekiger offers with regard to new media and Hinduism is that online sites "tend to be extremely gendered," meaning extremely male. "There are not women writing on these websites," she says, adding that "we need to train students to read with a critical eye" for what and who is missing from the conversation.
Focus on people, not hierarchy
Arun Jones, Hankey Associate Professor of world Evangelism at Emory's Candler School of Theology, said media coverage of Christianity tends to focus on what a denomination or central hierarchy is doing, with little coverage of individual congregations or parishes. Reporters seeking to drill deeper would do well to connect with Jones, who's "interested in what communities are doing on the ground."
Ironically, says Jones, many Christian denominations are not very good at engaging the media, which he finds strange, since "an important part of our tradition is taking complicated texts and translating them to people who are laity."
"Translation is something we [Christian ministers] do week after week, and yet we're reluctant to take very complex issues in religion and translate them for people who don't know much about it," says Jones. "I think that's another way of preaching that we could do."
---