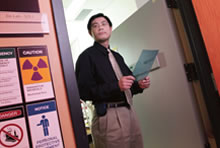 The Brain & Behavior Research Foundation (formerly NARSAD, the National Alliance for Research on Schizophrenia and Depression) has awarded Peng Jin, PhD, professor of human genetics at Emory University School of Medicine, with a NARSAD Independent Investigator Grant for his research on schizophrenia. The grant of up to $100,000 over two years is one of 40 grants awarded to scientists from 10 countries and 34 institutions.
Since 1987 the Brain & Behavior Research Foundation has awarded researchers at Emory University and its affiliated institutions 73 grants totaling more than $5.3 million.
Jin proposes to expand testing his hypothesis that malfunction of a genetic regulator of neurodevelopment called microRNA-137 (miR-137) contributes to the development of schizophrenia. Postmortem brain-tissue studies suggest that miR-137 is down-regulated in schizophrenia. To explore its activity in a living organism, Jin and colleagues have bred mice with a disabled miR-137 gene.
Grant selections are made by the Foundation's all-volunteer Scientific Council, a group of 138 brain and behavior research leaders.
"The range of project proposals this year was exceptional in its variety of new approaches to understand and treat mental illness," says Robert M. Post, MD, of George Washington University and chair of the Foundation's Independent Investigator Grant Selection Committee.
"Tackling the illnesses of the brain remains science's most daunting challenge and requires these cutting-edge approaches that the Brain & Behavior Research Foundation has been supporting for 25 years with its NARSAD Grants. Each year we build upon the growing body of knowledge about the brain and its functioning and come closer to finding cures."
"The Brain & Behavior Research Foundation salutes the impressive 2013 NARSAD Independent Investigator Grantees and extends gratitude to our donors and Scientific Council for their support," says Jeffrey Borenstein, MD, Foundation President & CEO. "All of our grants are funded through private contributions by people passionate about and committed to improving the lives of those with mental illness. As researchers increasingly face funding challenges, Foundation support is more important than ever."
Read about all 40 of the Grantees and their projects at http://bbrfoundation.org/II-2013.
---