Do you want to read all 22,000 genes in someone's DNA?
Do you want to know the identities of the bacteria in their intestines, or the DNA-bound proteins in their white blood cells? The staff of the Emory Integrated Genomics Core wants to make ambitious genomics research easier for you.
Emory's two genomics core facilities have united under one roof. The Emory Integrated Genomics Core (EIGC) is a consolidation of the Cancer Genomics Shared Resource of the Winship Cancer Institute and the GRA Genomics Core of the School of Medicine. The goal of this effort is to create a top-tier genomics resource that is widely available to the Emory research community, integrating cutting-edge genomics technologies with downstream bioinformatics analysis.
The EIGC's new scientific director is Michael Zwick, associate professor of human genetics. Zwick will oversee the operations, strategic planning, and expansion of the core"s services. The facility will also serve as the genomics platform for Winship's National Cancer Institute-designated Cancer Center Support Grant.
The Yerkes National Primate Research Center continues to operate its complementary genomics core facility, co-directed by Steve Bosinger and Zach Johnson, offering services such as next generation sequencing and microarray analysis to researchers at Yerkes, the Emory Vaccine Center and the wider Emory community.
'Make genomics easier to use for the non-expert'
"Talking about genomics is easy, but effectively using genomic technologies is more challenging," Zwick says. "We want to make these resources widely available to the Emory research community. Our mission is to make genomics easier to use for the non-expert."
Zwick came to Emory in 2005 after postdoctoral work at Johns Hopkins and Case Western and service with the U.S Navy's Biological Defense Research Directorate. His research team in Human Genetics uses next-generation sequencing technology to identify genes linked with pediatric disorders, which include autism spectrum disorders, congenital heart defects, and early-onset inflammatory bowel disease. He says that nucleic acid sequencing has become a basic commodity of biomedical research, "like water or electricity."
He says some of the most popular uses of large-scale nucleic acid sequencing in Emory research currently are:
RNA sequencing (RNA-Seq) of tumors — a scan of which genes are the most or least active within a tumor.
Whole exome sequencing — reading the DNA sequence of all the protein-coding genes in a person's genome. Here is a recent example where a boy's metabolic disorder was diagnosed in 2012.
Chromatin immunoprecipitation sequencing (ChIP-Seq) — a survey of where regulatory proteins are bound within the cell"s nucleus in a sample of tissue or cultured cells.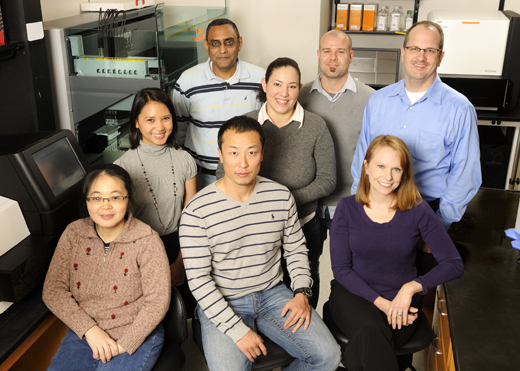 Members of the Emory Integrated Genomics Core
The integrated core is located on the 7th floor of the Woodruff Memorial Research Building. The new facility will combine basic genomic services and advanced next-generation sequencing technology with downstream bioinformatics analysis. It will include three divisions:
a CLIA division enabling processing of patient samples for clinical trials,
managed by Malania Wilson;
a research division managed by R. Ben Isett; and
a computational division providing analytical services, managed by Viren Patel.
Key CLIA (Clinical Laboratory Improvement Amendments, federal regulations governing lab tests on humans) services include nucleic acid extractions and biobanking, genotyping services, along with access to next-generation sequencing.
In-house research services include MiSeq, Taqman, Illumina and Affymetrix genotyping. Some large-scale sequencing research tasks will be outsourced to specialized sites such as HudsonAlpha Institute for Biotechnology, Zwick says.
"In some cases, we can take advantage of economies of scale and use outsourcing to reduce costs," he says. "This means increased capacity, lower costs, a faster turn around time and less waiting for customers."
The computational division will provide data storage and computing services, and will be compatible with other computational biology applications such as proteomics and biostatistics. The core will use Emory High Performance Computer Cluster, a 768 CPU-core cluster to perform computational analysis. Several servers will be devoted to the Galaxy Project, an open, web-based platform for data intensive biomedical research.
The core is jointly supported by the School of Medicine and the Winship Cancer Institute. Members of the Executive Committee overseeing the EIGC are Walter Curran, Paul Doetsch, Ray Dingledine, Carolyn Meltzer and Steve Warren.
---