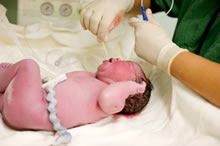 Patients who deliver their babies at Emory University Hospital Midtown (EUHM) will now be given the opportunity to publicly bank their umbilical cord blood, at no cost, in an altruistic means of helping others who are sick. Cord blood, which is normally discarded by most following delivery, can be used to save lives by effectively treating certain blood diseases and disorders, including leukemia.  
Each year, 20,000 children and adults are diagnosed with a life-threatening blood disorder for which a bone marrow or stem cell transplant is necessary for survival.
Emory University Hospital Midtown is partnering with the Cleveland Cord Blood Center (CCBC) out of Cleveland, Ohio, for this venture. CCBC was established in 2007 and collects over 4,000 units of cord blood annually.  
"We are excited to participate in the public cord blood banking program with the Cleveland Cord Blood Center," says Carla Roberts, associate professor in the Department of Gynecology and Obstetrics, Emory University School of Medicine and chief of the OB/GYN service at Emory University Hospital Midtown. "Blood cells remaining in the placenta and umbilical cord after the baby is born can be useful for transplant patients because the cells are capable of developing into new bone marrow. Bone marrow replacement can be a life-saving procedure for patients with various diseases, such as leukemia, sickle cell disease and other blood disorders." 
Who can donate?
Patients who are expecting a single baby and are at least 34 weeks pregnant will be asked if they want to donate their baby's cord blood. Because of Emory University Hospital Midtown's diverse population, the hope is that the hospital and its patients can allow for more diverse transplant options for those who are in need.
If a baby's cord blood unit meets all criteria for possible transplantation, the unit will be frozen and stored at the CCBC. The cord blood unit will then be listed with the National Marrow Donor Program registry. Some of the cord blood units will not meet the minimum standards for use in transplant (such as a low cell count), but these units may still be acceptable for research.    
"The Cleveland Cord Blood Center has provided over 155 cord blood units for transplantation," says Marcie Finney, associate director of the Cleveland Cord Blood Center. "These recipients would not have this second chance at life had it not been for the families that donate their baby's cord blood. Most of the time, umbilical cord blood is thrown in the trash as medical waste. Now patients at Emory University Hospital Midtown have the opportunity to donate it and possibly save someone else's life."
Private banking still option
Patients will not be charged any fees or receive any compensation for donating their baby's cord blood. Patients can still opt to privately bank their cord blood following delivery, if they choose to do so. There is a fee associated with private cord blood banking.  
This public cord blood banking endeavor at Emory was made possible with generous support from the Abraham J. & Phyllis Katz Foundation, a foundation that supports organizations that provide innovative advances in medical research related to illness, disease or wellness.
---