UPDATE (3/18): View live coverage of this year's Employee Town Hall via webcast on Wednesday, March 20, starting at 11 a.m.
__________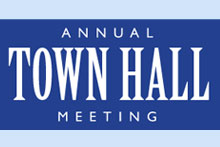 The Employee Council's annual Town Hall meeting is Wednesday, March 20 from 11 a.m. to 1 p.m. in the auditorium of the Woodruff Health Sciences Center.
The new Diversity Advisory Committee joins the Employee Council this year in sponsoring the Town Hall.
After brief introductory remarks, these university officials will be on hand to answer questions from the audience:
James Wagner, president
Claire Sterk, provost and executive vice president for academic affairs
Ozzie Harris, senior vice provost of community and diversity
Mike Mandl, executive vice president of finance and administration
Wright Caughman, executive vice president of health affairs.  
The speakers address a range of questions that often cover topics like transportation, employee review process, graduate student funding, subcontractors, professional development, the University-Healthcare relationship and more.
Lunch will be served.
To submit a question to asked by an Employee Council member at the event, use the "Hot Topics" button on the Employee Council website.  
"What the Employee Council is really excited about is the opportunity to work with the Diversity Advisory Committee on this Town Hall," says Employee Council president Kathy Troyer, adding that it offers a unique experience. "We're expecting a huge crowd and hope students, staff and faculty will come out."
Information on a live webcast of the event will be distributed closer to the Town Hall date.
---