Chances are most Emory students spent their spring break on the beach or relaxing at home in preparation for the rest of the semester.
Not the 115 students who participated in Alternative Spring Break trips this year.
Coordinated by Volunteer Emory, the Alternative Spring Break trips are intended to "create new opportunities for Emory students to explore social justice in various frameworks of understanding," according to the Volunteer Emory website.
The six groups went to Kissimmee, Fla.; New Orleans; Charleston, S.C.; Nashville, Tenn.; Bolton, N.C.; and also took to the streets of the city of Atlanta — the latter, quite literally.
An Atlanta service 'staycation'
Now in its second year, the Atlanta trip immersed students in the issue of homelessness, as well as hunger and poverty. The students volunteered at various shelters during the day. They were given a total of $7 for food for the entire week, had to walk from shelter to shelter, many of which were often miles apart, and sleep outside for three nights.
Additionally, the 13 participants were not allowed to shower, change clothes or brush their teeth, as they endured rainy nights in order to experience what living on the street is actually like.
Atlanta trip leader Shyama Appareddy, an Emory junior, said the experience "definitely humbled participants." She acknowledged that while the students had the security of knowing they were safe and could go home after the immersion, they experienced some of the physical discomforts that people have to deal with while sleeping outside.
"We can never really understand the emotional or psychological trauma endured by someone who is actually homeless," adds Appareddy. "A lot of our participants realized their own privilege."
By volunteering and visiting agencies like the Open Door Community and the City of Refuge, participants were able to converse with homeless people and hear their stories of what led to their situation, as well as their aspirations for overcoming them.
"Our goal was — and is — to reduce the distance between 'us' and 'them' by connecting with our homeless neighbors and hearing their stories," Appareddy says.
Natural disaster relief in New Orleans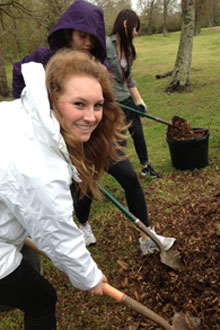 Alternative Spring Break participants help out in New Orleans.
Over seven years have passed since Hurricane Katrina slammed the Gulf Coast; New Orleans is still reeling from the devastating consequences of the storm.
New Orleans Alternative Spring Break participants helped various agencies like the Louisiana Boys and Girls Club, Renew Schools, St. Paul's Homecoming and Green Light New Orleans with tasks that range from installing energy-saving light bulbs in homes to cleaning up a lumber yard.
Emory sophomores Kayla Pak and Jaime Cheung led the New Orleans trip that focused on natural disaster relief.
"The most rewarding experience in New Orleans was getting to know the people in the city," says Pak. "Although some days we made less impact with our service, the residents never failed to express their thanks."
Pak, in an email to Emory Report, attached a letter that one of the agencies sent to the participants that read:
"You have made a big difference to our city and to the citizens that call it home. I only hope that the lives you touched with your acts of kindness pay it forward. Some of the tasks probably seemed mundane and some people may have seemed unappreciative. But know that the people who really care about this unique city called the Big Easy are very grateful to your group. We recognize that you could have gone anywhere for Spring Break but chose to give a big part of yourself to us. Thank u for that. Never feel that what u are doing regarding service work is ever useless Because if it comes from your heart it is the greatest gift u can give."
Cultural connection in North Carolina
Nneamaka Ifeadike spent her break with the Waccamaw Siouan Tribe in southeast North Carolina.
"I had a really fulfilling journey," says Ifeadike of the six days she spent with the tribal community, focusing on community building and cooperation.
The goal of the North Carolina trip was to "connect the Emory community with Native American communities, and to respect and appreciate culture that is different from ours," according to the Volunteer Emory website.
Students on other Alternative Spring Break trips spent time learning about food production and consumption in South Carolina; community-building in Florida; and focusing on various aspects of poverty and social justice in Tennessee.
---