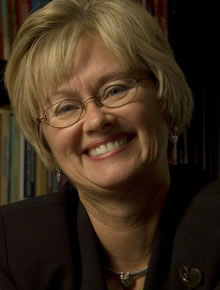 Sandra B. Dunbar, RN, DSN, Charles Howard Candler professor of Cardiovascular Nursing and associate dean for Academic Advancement at Emory University's Nell Hodgson Woodruff School of Nursing, will be inducted into the International Nurse Researcher Hall of Fame by the Sigma Theta Tau International Honor Society of Nursing.
The Hall of Fame recognizes nurse researchers who have achieved significant and sustained national and/or international recognition for their work; and whose research has impacted the profession and the people it serves.   Dunbar's current research focuses on testing integrated self-care approaches for patients with heart failure and diabetes and testing interventions that improve outcomes for caregivers of heart failure patients.  
"Dr. Dunbar has made important contributions to nursing research and scholarship in the region and beyond," says, Linda McCauley, PhD, RN, FAAN, FAAOHN, dean of Emory's School of Nursing. "So much of her work examines how nursing interventions – ranging from education to nutritional counseling, to the encouragement of healthy exercise regimes – might improve the functioning, mood, and quality of life of persons affected by heart failure.  It is clear to me that she will be an outstanding Hall of Fame inductee."  
Dunbar has been a member of the Emory's School of Nursing faculty since 1988.  She has authored more than 70 original journal articles, 75 research abstracts and 35 research grants.  She has published in publications such as Heart and Lung, the New England Journal of Medicine, and Circulation and has been an active volunteer for the American Heart Association's Council of Cardiovascular Nursing.  She is also the former president of the American Association of Critical Care Nurses and principal investigator of a $1.5 million grant from the National Institute of Nursing Research to train nurse scientists on interventions to improve health outcomes.  
"I have devoted my career to collaborating with and learning from colleagues and other disciplines to inform cardiovascular care in the United States and beyond," says Dunbar.  "To receive recognition of this magnitude is simply humbling and a real honor."  
The 2013 International Nurse Researcher Hall of Fame award presentation will take place on July 25, 2013 in Prague, Czech Republic at the 24th International Nursing Research Congress.  
---