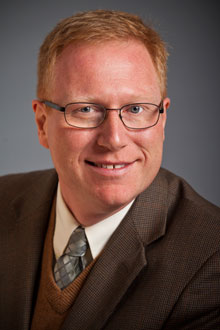 Philip Wainwright has been named vice provost for international affairs and director of the Halle Institute for Global Learning at Emory University, Provost Claire Sterk announced today.  
Wainwright, currently associate dean for international and summer programs at Emory College of Arts and Sciences, will assume the new post March 1.  
"Philip Wainwright has been devoted to helping Emory's faculty and students realize the transformative power of international experiences in teaching, learning and research," says Sterk. "He understands the depth and scope of the university's engagement in countries around the world, and we look forward to working with him to further advance Emory's global initiatives."
Wainwright emerged as the top candidate from an internal search that was chaired by Lisa Tedesco, dean of the Laney Graduate School.  
Wainwright has led the Office of International and Summer Programs (OISP) since 2008, which includes Emory College Summer School, Center for International Programs Abroad, Center for International Study Abroad, Emory Pre-College Program, and the Emory College Language Center. A member of the university community for 16 years, Wainwright began his career at Emory as study abroad coordinator in the Center for International Programs Abroad.   
"In my years at Emory, it has been tremendously gratifying to see the study abroad and summer programs we have started enrich the quality of the educational experience," says Wainwright. "I'm excited to have the opportunity to coordinate and promote internationalization more broadly, and to help lead Emory's effort to refine its global strategy and its identity as an international university."  
An Emory alumnus, Wainwright received both a bachelor's degree summa cum laude and a master's degree from Emory in 1985. He holds a Ph.D. in history from Stanford University.  
About the Halle Institute for Global Learning  
Established in 1997 with a gift from Claus M. Halle, the Halle Institute for Global Learning is Emory's premier venue for visits by heads of state, distinguished policymakers and influential public intellectuals from around the world. The Halle Institute's programs strengthen faculty distinction, prepare engaged scholars and foster greater involvement from local, national and international communities.
---