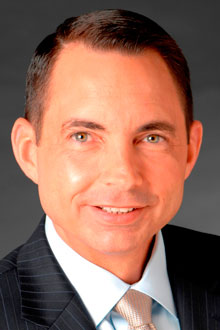 The Emory University Center for Ethics, a leader in the exploration of ethics, has appointed to its advisory board Paul J. Gennaro, senior vice president and chief communications officer of AECOM Technology Corp., the world's number one-ranked engineering design firm.
"Paul brings strong corporate expertise in advancing ethical communications to the board," says Paul Root Wolpe, director of the Emory Center for Ethics. "Working with Paul and AECOM will provide an excellent, new vantage point for the Center for Ethics — making our board even stronger than it already is."
Since 2006, Gennaro has led AECOM's global corporate communications in support of dramatic growth that has included the doubling of the workforce, the tripling of revenue and the execution of more than 35 acquisitions. He also has developed and executed communications strategies in support of the company's award-winning initial public offering (IPO) and its global rebrand.  His 25-year career also includes corporate leadership roles with Johns Manville (a subsidiary of Berkshire Hathaway), Ingersoll-Rand, Dell and American Express. He began his career as a U.S. Navy journalist and public affairs officer.
Gennaro is recognized as a thought leader on ethics and communications as well as corporate reputation. He also serves as the chairman of the communication advisory board for the Ethisphere Institute, which annually recognizes the World's Most Ethical Companies.
About the Center for Ethics
An international leader in the exploration of ethics, the Emory Center for Ethics is dedicated to exploring how ethical issues underlie the decisions that shape our minds, lives, and society.  We are dedicated to inspiring and advancing scholarship and education in ethics, to igniting the moral imagination of leaders in all walks of life, and to fostering lives of moral meaning and ethical engagement.  The Center for Ethics is located on Emory University's campus in Atlanta, Ga. For more information, please visit www.ethics.emory.edu, or call 770-712-8307.
About AECOM
AECOM is a global provider of professional technical and management support services to a broad range of markets, including transportation, facilities, environmental, energy, water and government.  With approximately 45,000 employees around the world, AECOM is a leader in all of the key markets that it serves. AECOM provides a blend of global reach, local knowledge, innovation and technical excellence in delivering solutions that create, enhance and sustain the world's built, natural, and social environments.  A Fortune 500 company, AECOM serves clients in more than 130 countries and had revenue of $8.2 billion during the 12 months ended Sept. 30, 2012.  The company is ranked no. 1 on the top global design firm listing of Engineering News-Record magazine.  More information on AECOM and its services can be found at www.aecom.com.
---