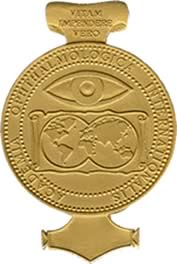 Emory Eye Center ophthalmologist Hans E. Grossniklaus, MD, MBA, F. Phinizy Calhoun Jr. Professor of Ophthalmology and director, L.F. Montgomery Pathology Laboratory and of the section of Ocular Oncology and Pathology, was elected to the Academia Ophthalmologica Internationalis (AOI), the most prestigious international ophthalmology organization, consisting of the world's top academic ophthalmologists. AOI is committed to excellence in teaching, research and service in worldwide ophthalmology. 
AOI has emeritus and active membership in 33 countries. A university-centered organization, it was formed in 1975 with active membership limited to 70 chairs. Members are formally nominated to fill a specific chair as it becomes vacant. An ophthalmologist who has been engaged in the study, research, or practice of ophthalmology for at least 15 years and who has published not less than 100 scientific papers, reports, or books is eligible to be nominated for membership. Grossniklaus was one of only two ophthalmologists in the United States elected into the AOI this year.
Grossniklaus is board certified in both ophthalmology and anatomic pathology. He has expertise in diagnostic ophthalmic pathology, ocular oncology and ophthalmic pathology research, including drug delivery. In 2012, under his directorship, the Montgomery Lab of Emory Eye Center reached an accumulated 65,000 specimens evaluated since the 1940s, with Grossniklaus having signed out over 50,000 cases himself.
He is founding director of Emory Eye Center's Ocular Oncology Service (2009), comprising four physicians. As such, he is a member of the Winship Institute of Cancer, Georgia's only National Cancer Institute-designated cancer center. His research interests include novel therapies for primary ocular tumors, pathobiology of eye melanoma metastasis and pathobiology of age-related macular degeneration. His major contributions to ophthalmology include defining the pathology of choroidal neovascularization, creating a model of ocular melanoma that metastasizes to the liver and forms micrometastases, being the first to find these micrometastases in patients with metastastic ocular melanoma and development of nanotechnology for the diagnosis and treatment of ocular cancers.
"I am honored to have been elected into Academia Ophthalmologica Internationalis," says Grossniklaus. "It has been a privilege to work in the Emory Eye Center and at Emory University with so many wonderful friends and colleagues. This is truly an honor for Emory as it keeps Emory University, the Emory School of Medicine and the Emory Eye Center on the world stage in ophthalmology."
"We are very proud of Dr. Grossniklaus and his continued contributions to both ophthalmic oncology and pathology," says Timothy W. Olsen, director, Emory Eye Center. "He is a tremendous resource for vision research, not only at Emory, but also for collaborators around the world. Importantly, Dr. Grossniklaus accelerates research at Emory by his important work within our program. He is truly a superb collaborator."
| | |
| --- | --- |
| |   |
| Hans E. Grossniklaus, MD, MBA |   |
Grossniklaus received his medical degree at Ohio State University, completed residencies in ophthalmology and pathology at Case Western Reserve and fellowships at Wilmer Eye Institute (Johns Hopkins University) and at the Armed Forces Institute of Pathology, Washington, D.C.
He is a much sought-after speaker and has published more than 400 papers and 200 abstracts. He has edited books and written book chapters as well.
Grossniklaus received the Senior Achievement Award and two Secretariat Awards from the American Academy of Ophthalmology (AAO). In 2009 he was tapped a Silver Fellow of the Association for Research in Vision and Ophthalmology (ARVO).
In 2012 he was tapped as one of Emory University's eight Distinguished Teaching Scholars, its only School of Medicine designee. Grossniklaus is currently the President of the American Association of Ophthalmic Oncologists and Pathologists (2012-2014) and is the nominated President of the American Ophthalmological Society (2013-2014). He received the Zimmerman Medal from the American Association of Ophthalmic Oncologists and Pathologists (2012) for outstanding contributions to ophthalmic pathology. He has been named to deliver the Jackson Memorial Lecture to the AAO in 2014, the most prestigious lecture in clinical ophthalmology in the United States.
Grossniklaus was also tapped as an F1000 Faculty Member of the Year for 2011, an international honor for academic physicians. He received an Alcon Research Institute award for $100,000, given annually to six outstanding senior ophthalmic research scientists selected from a pool of 50 to 100 nominees. He is consistently ranked as a top doctor by U.S. News & World Report, where he ranks in the top 1% of doctors so listed.
---