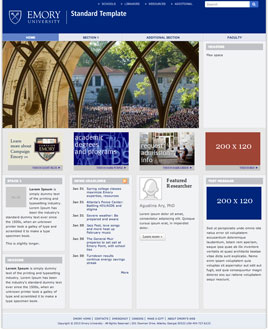 A state-of-the art tool for web development is now available for Emory websites. Version 2 of Emory's standard template (V2) offers revamped functionality designed for today's multi-device web environment while leveraging Emory's branding.  
Emory's standard template offers schools, units, divisions and departments an easy way to develop a brand-compliant, up-to-date website with a pre-defined set of optional features.  
"When the university adopted the policy in 2009 that new websites would use the Emory template in Cascade, the strategy was to visually unite Emory's online presence to increase the effectiveness of what has become the most visible presentation of Emory around the world," says Ron Sauder, vice president for communications and marketing. "Standardizing the template also provides a way for units to reduce administrative costs for their websites."  
V2 extends the initial functionality of the original template, and adds many new evolutions in web technology, says Rachelle Willoughby, senior manager of the Office of Information Technology's Web Design Group (WDG).  
"This was really about creating something flexible," Willoughby says.  
The V2 template is fully mobile-responsive, meaning that websites using the new version will accommodate everything from laptops to tablets to smartphones, adapting to different vertical and horizontal views on those devices. The responsive design has also been customized to be touch-friendly, an important element for mobile access.  
While the original standard template met the needs for smaller business units, the new version allows much larger and complex entities to develop web pages without needing customization.  
"V2 is easy to use," says John Mills, executive web producer in the Office of Communications and Marketing. "For divisions, departments and schools, the new version means that mobile responsiveness is now easily within grasp, and that many features that previously required custom development are now built in."  
New features of V2 of the standard template include:
A responsive, accessible framework that displays based upon the dimensions on the device, whether a computer, tablet or smartphone

An optimized interface with Cascade, Emory's content management system, including analytics settings

Built-in commonly requested features, such as photo slideshows, integrated social media and integration with the Emory News Center and Emory Events Calendar

A flexible layout with branding and color options

Improved, updated code and technical implementation

Online documentation and live style guide for easy reference.
Communications and marketing, IT collaborate on new template  
The design of the new version of the standard template was a collaborative effort between the Office of Information Technology Web Design Group, University Technology Services (UTS) and Emory's Office of Communications and Marketing.  
The idea for developing a new standard template arose when the Web Design Group noticed it was constantly getting the same internal requests from Emory clients: Can you build pages for staff and faculty bios? Can you build pages that allow alphanumeric sorting? Can you build a different rotating photo slide show? As a service center, the Web Design Group team envisioned a better way to accommodate those requests by adding the commonly requested features into the standard template.  
"The template will free our website community to concentrate more on the purpose and strategy of their sites," Willoughby says. "Our goal is to help people make their websites truly useful for their target audience."  
The collaboration team included web developers Lindsay Paroczai, Emily Porter, and Jonathan Stegall from WDG; Kevin Chen and Steve Collins from the UTS Integration Web Team; and Jan Gleason, John Mills and Stanis Kodman from Communications and Marketing.  
Schools and units that currently have standard template sites may choose to adopt the new version, or stay in the current version which will continue to be supported.  
There is no cost to requesting and hosting a basic site via the standard template. 
Departments and units who need help with migrating into V2 or want additional customization of features or functionality can hire the Web Design Group for a fee.  
To get started, users can request a newly provisioned site from UTS through the Help Desk at help.emory.edu, or contact the Web Design Group via Willoughby at rachelle.a.willoughby@emory.edu if development assistance is needed.  
The new version of the standard template has the potential to place Emory on the leading edge of university web development. "Few of the universities that Emory benchmarks even have responsive websites," says Stegall. "The template increases our ability to be fully adaptive to mobile and handheld technology."  
Adds Sauder: "We've heard expressions of appreciation from schools and units who have taken advantage of the templates, and V2 is another way our groups are serving the Emory community by 'mobilizing' Emory websites broadly conceived."
---