On Feb. 27, more than 200 students and members of the Emory community gathered in Asbury Circle to attend a Rally Against Racism sponsored by the Emory student group Change@Emory and the National Association for the Advancement of Colored People (NAACP).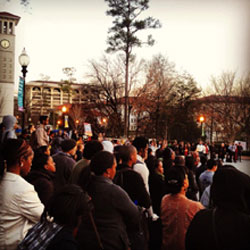 Photo by Nenad Tadic
The student-led event focused on the personal stories and experiences of minority students on every aspect of campus life, with speakers addressing a variety of issues from the loss of black fraternity and sorority houses—including the Black Student Alliance house—in recent years, a feeling of not being supported academically and socially on campus, and personal incidents of racial insensitivity experienced within the campus community.  
Although two recent controversies—namely the Dooley Program and President Jim Wagner's Emory Magazine column on the "3/5th compromise"—sparked the timing of the rally, many of the speakers emphasized that they wanted fewer apologies and more action.   
Following the rally, Ajay Nair, senior vice president and dean of Campus Life and Claire Sterk, provost and executive vice president for academic affairs issued the following statement via the Campus Life Facebook:  
The Rally Against Racism was a significant moment in Emory's focus to move forward. We thank the student organizers, hosts, and speakers from across the Emory community. The event focuses us on promoting positive change.
In our respective roles at Emory, including serving on the President's Cabinet, we hear the call to action. We are committed to engaging with students, faculty, and staff in order to collectively develop and implement the changes necessary to help us achieve our collective vision for a better community. President Wagner has promised his support of this commitment.
Since December, the Division of Campus Life and the Office of the Provost have met extensively with community leaders to organize community feedback into a cohesive action plan. Next week's campus life ad hoc committee report will outline some of the action items currently under development. This report, however, is only a beginning.
Over the next several months, you will have a number of opportunities to contribute, guide, lead, and provide invaluable input. During this critical time, we must collaborate, for true change comes only from an engaged community.  
The Division of Campus Life will host a student forum on Tuesday, March 26 to discuss the ad-hoc committee report's findings and clarify action items. This question and answer session will be held from 5:30 – 7 p.m. in Eagle's Landing in the Dobbs University Center. 
---