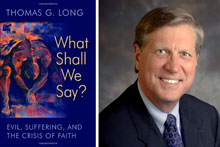 The daily responsibilities of ministers are never easy. But then come school shootings, terminal diagnoses and violent acts – the kinds of events that can challenge a person's faith and turn a believer away from God.  
Throughout his career teaching at Emory's Candler School of Theology, Thomas Long has watched ministers and congregants struggle to reconcile their belief in God's love and omniscience with innocent suffering.  
"It's what I call the impossible chess match," says Long. If God is all-loving and all-powerful, how do people make sense of bad things happening to good people?  
"Young ministers know there's no slam-dunk answer to that question," Long says. But rather than blame God, Long says, when terrible things happen, he wants people to know that "this is God's enemy too."  
In the award-winning "What Shall We Say? Evil, Suffering, and the Crisis of Faith" (Eerdmans, 2011), Long tackles questions of God and suffering from a Christian perspective.
Listen to Thomas Long talk about "What Shall We Say? Evil, Suffering and the Crisis of Faith" and the theodicy problem, and read an excerpt:
Discussion
Reading
---