An advance screening of the 2012 film "Midnight's Children" will be shown at 7 p.m. Wednesday, Feb. 27, at Landmark Midtown Cinema in Atlanta. The film will be followed by a conversation with screenwriter Salman Rushdie, director Deepa Mehta and producer David Hamilton.
Registration for this event is now closed. Those registered are not guaranteed seating and are advised to arrive early.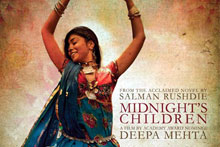 Rushdie adapted the screenplay from his Booker Prize winning novel and provides a voiceover for the film. "Midnight's Children," which had its worldwide premiere at the Toronto Film Festival in September, will come to area Atlanta theaters in May.
"Together, Rushdie and Deepa Mehta have adapted Midnight's Children into a dazzling, funny and profoundly moving visual and storytelling feast," says Matthew Bernstein, chair of the Department of Film and Media Studies.
In addition, Rushdie will participate in several film events this month at Emory University, where he is University Distinguished Professor:
He introduces a screening of Akira Kurosawa's classic "The Hidden Fortress"(1958) on Wednesday, Feb. 20, 7 p.m., White Hall 208. The story of a defeated general in Japan's era of civil wars who must sneak his princess through enemy lines was the inspiration for George Lucas's first "Star Wars" film in 1977.
Rushdie and Emory faculty discuss the influence of "The Hidden Fortress" on "Star Wars" on Friday, Feb. 22, 1:30-3:30 p.m., White Hall 208.
Following the Feb. 27 screening of "Midnight's Children," Rushdie, director Mehta and producer Hamilton will discuss both the book and film, Thursday, Feb. 28, 4-5:30 p.m., in Emory's Woodruff Library.
Events are free and open to the public. Visit filmstudies.emory.edu for details about the screenings and discussions.
"The Department of Film and Media Studies deeply prizes its partnership with Sir Salman," says Bernstein. "He is a true and deeply knowledgeable cinephile with whom we greatly enjoy trading ideas and interpretations every year.  He has enriched our programming and curriculum exponentially."
Rushdie at Emory
As University Distinguished Professor, Rushdie spends time each year on campus teaching, presenting public lectures and engaging with the academic community. Rushdie's archive, which is held by Emory's Manuscript, Archives and Rare Book Library, encompasses not only the author's manuscripts, drawings, journals, letters and photographs, but also an array of digital materials.
---