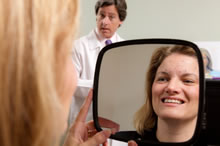 Emory Healthcare has acquired the plastic surgery practice of Roderick Hester, MD, and Foad Nahai, MD, along with the Paces Plastic Surgery Center, located in Buckhead. Emory has enjoyed an outstanding relationship with these physicians and their associates for many years. Therefore, this acquisition is the natural next step in growing and fostering this partnership.  
Both Hester and Nahai are associate professors of surgery, Division of Plastic and Reconstructive Surgery at Emory University School of Medicine.  
"Emory Healthcare has a robust plastics and aesthetics practice that focuses primarily on reconstructive surgery," says Donald Brunn, president and chief operating officer of The Emory Clinic. "This new endeavor will expand the scope of Emory's clinical practice and will enable patients to receive a full range of coordinated, integrated aesthetics care and services under one comprehensive program and under one roof." 
Emory's highly trained surgeons offer plastic surgery, including breast reconstruction; ocular-plastics and ophthalmology; facial plastics and otolaryngology (including head and neck reconstruction) and hand and upper extremity reconstruction.
The acquisition will be finalized in Spring 2013, at which time the Paces Plastic Surgery Center will change its name to Emory Aesthetics Center, and the practice will become part of The Emory Clinic's Division of Plastic and Reconstructive Surgery. The staff and physicians will continue to meet the highest quality standards and work from one electronic medical record and patient portal system to ensure seamless communications.  
"We look forward to this collaboration as we deliver outstanding services to our patients under the Emory brand," say Hester. Hester and Nahai are considered by peers to be among the best of the nation's aesthetic plastic surgeons.  
"The benefits of this partnership include helping the center to grow and expand, while offering a wide range of services to patients by skilled health care providers," Nahai explains.  
Hester founded what was then called Paces Plastic Surgery and Recovery Center in 1993. It remains one of the nation's most comprehensive centers for the care of plastic surgery patients, and includes clinical areas, operating rooms, overnight recovery suites. The center will offer an array of nonsurgical support and treatment services including: CoolSculpting, photofacials, hydrafacials, laser hair removal, chemical peels and more. 
---